FA Cup extra preliminary round: Northwich Victoria to face 1874 Northwich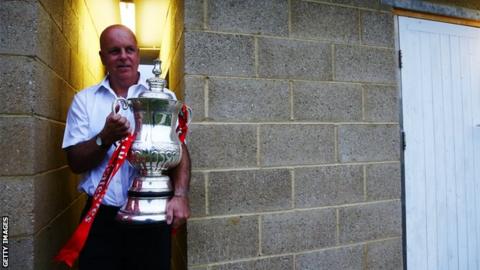 Northwich Victoria, who reached the second round two seasons ago and the third round in 2006, will face local rivals 1874 Northwich - a breakaway club formed five years ago - in the extra preliminary round of the FA Cup.
A total of 737 clubs have entered the 2017-18 competition, with 370 of those starting their campaign on the weekend 5-6 August when 185 extra preliminary round ties will be played.
The extra preliminary round is the first of six qualifying rounds before the first round proper on 4 November.
The two Northwich teams will be also face each other in the North West Counties Premier Division next season.
Northwich Victoria were beaten 3-0 by Premier League Sunderland at the Stadium of Light 11 years ago.
There are 18 clubs taking part in the FA Cup for the first time this season, including Whitchurch Alport.
The Shropshire club was formed in 1946 and boasts former Northern Ireland striker Jimmy Quinn among its former players.
Friday's draw took place 41 days after Arsenal beat Chelsea in the 2017 final at Wembley.
All extra preliminary round winners will receive £1,500 in prize money.