Stuttgart sign DR Congo-born midfielder Chadra Akolo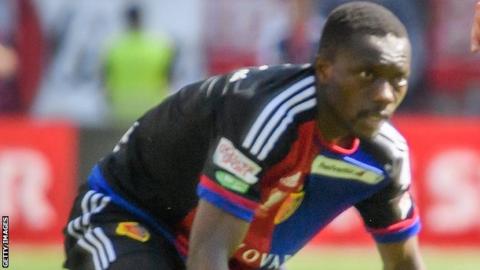 Newly-promoted German Bundesliga side Stuttgart have signed DR Congo-born Chadrac Akolo from Swiss club FC Sion on a four-year deal.
The 22-year-old midfielder moved to Switzerland at the age of 15 to join FC Bex youth side
After scoring 18 goals in 68 appearances for Sion he is hoping keep Stuttgart in the Bundesliga.
"I want to play my part in ensuring that we have a good season," Akolo told the club's official website.
"I had a successful time in Switzerland, for which I am very grateful.
"Now I am looking forward to the challenges in the Bundesliga and to playing for my new club, Stuttgart.
"I would like to get to know my team-mates at the upcoming training camp, and over the coming weeks and months.
Stuttgart Sporting Director Jan Schindelmeiser is confident their new signing's rise and development will continue in German football.
"Chadrac Akolo has developed very well over the past two seasons and we have every fate in his ability to continue that development in the Bundesliga," said Schindelmeiser.
"Chadrac is happiest in a wide attacking position, he is a good assist provider and also has a good goal tally."
Akolo's form in Switzerland has reportedly caught the attention of DR Congo manager Florent Ibenge.
Ibenge is keen to persuade Akolo to play for Leopards rather than him choosing to play for the Swiss national side in the future.