Guernsey FC boss Tony Vance backs FA Cup and FA Trophy withdrawals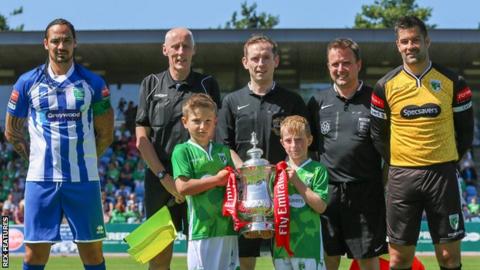 Guernsey FC manager Tony Vance says the club's decision to pull out of the FA Cup and FA Trophy this season is "not a major issue".
The Channel Island side first played in the competitions in 2013, and in August became the first team outside the United Kingdom to host an FA Cup tie.
"It was a decision we haven't taken lightly," Vance told BBC Guernsey.
"It does take its toll, because you end up getting more midweek matches, which is more of a challenge for us."
The Green Lions, who play in the eighth tier of English football, had been due to enter both tournaments at the preliminary-round stage.
They were drawn against Hertford Town in their opening FA Trophy tie on 5 August, but their opponents have received a walkover.
"I don't think it's a major issue really," added Vance. "It's more about the schedule we have to endure as amateur footballers - everyone knows the story, the challenges we have to face with regards to all the travel.
"I'm disappointed because obviously the FA Cup is iconic and you have that one opportunity, but everyone knows what the common goal is and that's to do well in the league.
"I think it's probably the right thing, certainly for this year - I'm sure we'll look at it again next year."