Jersey boss Martin Cassidy says Uefa membership 'would grow' side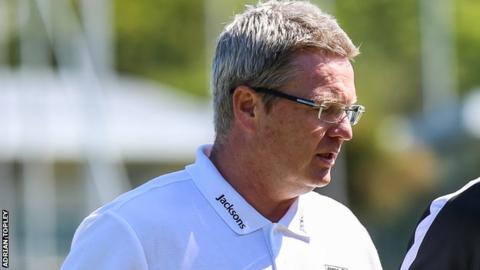 Jersey manager Martin Cassidy says his side's performances against "top opposition" show they would "become competitive" at international level.
The Channel Islanders lost 2-1 on Tuesday to Leicester Under-23s, who they have played twice in three months.
Jersey's bid to join Uefa was rejected last year, but their appeal against the decision was heard by the Court of Arbitration for Sport (CAS) on 28 June.
"We've got a really good foundation that we think we could grow," he said.
Cassidy added to BBC Radio Jersey: "With the support that Uefa would give we can build and build and become - I don't know about a force - but certainly become competitive."
Leicester's Josh Gordon scored an own goal in the friendly at Springfield, but Admiral Muskwe and Frederik Nielsen netted either side of that for the Foxes.
In May, Jersey won on penalties against a Football Association XI made up of England C players, most of which play for National League sides.
"My job at the minute is to make sure that when we play top opposition, we're not getting beaten seven, eight, nine, 10-0, which has happened in the past," Cassidy continued.
"We're doing that, we're competing."