Andre Wisdom says his passion for Derby County led to permanent move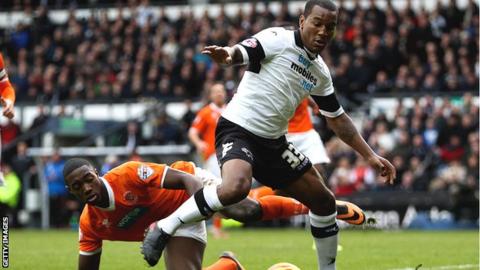 Derby County defender Andre Wisdom says his love for the club helped him make a permanent move this summer following a loan spell earlier in his career.
The 24-year-old, who joined from Liverpool for £3m last month, played 38 games for the Rams back in 2013-14.
"I always want to strive forward whether it's on loan or if I am there permanently, I always have goals every season," Wisdom told BBC Radio Derby.
"It is great here at Derby, I want to improve and progress as a player."
The defender is one of two new signings for manager Gary Rowett, with Curtis Davies joining from Hull City for an undisclosed fee.
Wisdom played for the Rams on Tuesday in their 4-0 pre-season win over Kidderminster - his first game for the club since being part of the starting XI which lost the 2014 Championship play-off final to QPR at Wembley.
"Everyone knows that I love Derby. It is good to be back. I had a great time when I was here before and it is great to see all the lads again," Wisdom continued.
"Then there's all the guys that I didn't know and it feels like I have been here for ages. It's a good feeling.
"When I was here last time we had a great run and it was a great season for us.
"I am sure hard work, determination, the right results and a bit of luck here and there, hopefully we can do the same.
"You know what football is like, it's up and down. Hopefully we can concentrate on pre-season and take that into the season."