Burkina Faso star Aristide Bance moves to Egypt's Al Masry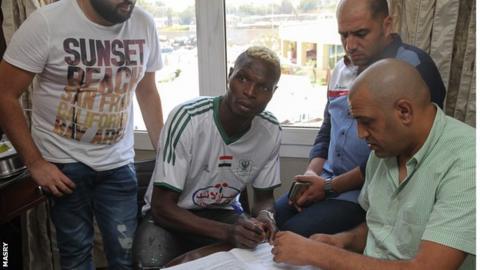 Burkina Faso striker Aristide Bance has completed his transfer from Ivory Coast's ASEC Mimosas to Egyptian side Al Masry on a two year deal.
The club announced on their website that Bance put pen to paper after nine hours of negotiations in Cairo.
32-year-old Bance has become a cult hero for Burkinabe fans and has played his league football extensively across Europe and Africa.
The charismatic forward told reporters he is excited about his new challenge.
"I am happy to be here in Egypt and especially with Al Masry," Bance said after signing his contract.
"I had many offers but picked up Al Masry because of their head coach Hossam Hassan who is one of African football's legends.
"Since I was a young I used to watch him playing and it's an honour to play under his leadership today.
"I know Al Masry is a big team here in Egypt and has a lot of fans and that encouraged me to sign," Bance added
Bance, who was born in Abidjan most recently helped ASEC Mimosas win the Ivorian league title.
On the international scene, he has made 67 appearances for Burkina Faso, scoring 21 goals.
He was a key member of the Burkina Faso side which reached the semi-finals of the 2017 Africa Cup of Nations, scoring a goal in the defeat to Egypt.