Gerhard Tremmel: Goalkeeper joins Swansea staff as player scout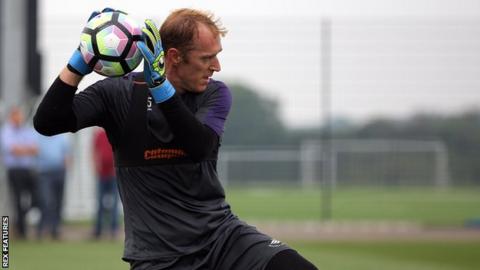 Gerhard Tremmel has joined Swansea City's staff as a scout after the goalkeeper's playing contract was not renewed in the summer.
The 38-year-old will be based in his native Germany as the Premier League club's European recruitment assistant.
"After my great spell at Swansea ended, I have decided to retire as a player," Tremmel told the club website.
"But I always had in mind to do something in football when I finished playing."
As well as his scouting duties, Tremmel will look into the possibility of sending Swansea youngsters on loan to German clubs.
"I think I have a good eye for talent and this idea came up. I am going to have a go and see how it works out," said Tremmel.
"I hope obviously that I can help the club."
Tremmel joined the Swans as a player from RB Salzburg in August 2010, making 52 senior appearances for the Welsh club.