Caf enlarges executive committee
By Mark Gleeson
BBC Sport, Rabat
Last updated on .From the section Football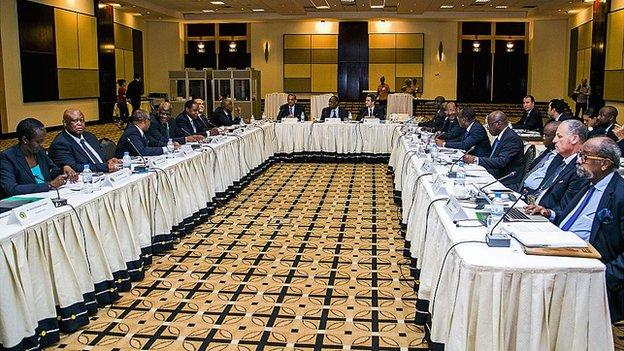 The size of the Confederation of African Football's executive committee has effectively increased from 15 to 23 following a change in statutes.
Caf's highest decision-making body used to be made up of 15 members, plus African members of the Fifa Council.
Since the Fifa Council members were co-opted onto the Caf board, they had no voting rights.
But a vote to change Caf's statutes at its General Assembly in Morocco has awarded these members voting rights.
The previous Caf regime changed the statutes in 2012 in a move that was seen as a bid to prevent Ivory Coast's Jacques Anouma from running against then president Issa Hayatou in elections.
In addition, Caf will no longer allow members to hold down two slots on both its executive committee and the Fifa Council.
This boosts its own executive - which is now effectively made up of the 15 executive committee members and six FIFA Council members.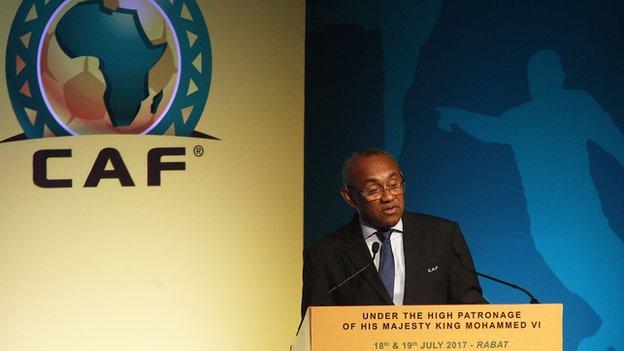 The only exception is the Caf president, who is automatically a Fifa vice-president as well.
Caf president Ahmad can also appoint two co-opted members, now also with full voting rights.
In recent weeks, without any official announcement, he has named Ahmed Yahya of Mauritania and Moses Magogo of Uganda to those roles.
The new rule means a quartet of senior exco members must now choose to give up a Caf executive role or their berth on the Fifa Council.
These members are Tarek Bouchamaoui (Tunisia), Almamy Kabele Camara (Guinea) Kwesi Nyantakyi (Ghana) and Constant Omari Selemani (DR Congo).
Another decision that was seen to favour Hayatou - scrapping the rule on candidates over 70 from running for the presidency or executive committee in 2015 - was also overturned in the Moroccan capital on Friday.
Executive committee members:
President: Ahmad (Madagascar)
Vice-presidents: Nyantakyi (Ghana), Selemani (DR Congo), Fouzi Lekjaa (Morocco),
Members: Tarek Bouchamaoui (Tunisia), Musa Bility (Liberia), Kalusha Bwalya (Zambia), Camara (Guinea), Rui Eduardo Costa (Angola), Adoum Djibrine (Chad), Isha Johansen (Sierra Leone), Danny Jordaan (South Africa), Amaju Pinnick (Nigeria), Leodegar Tenga (Tanzania), Suleiman Hassan Waberi (Djibouti).
Co-opted members: Yahya (Mauritania), Magogo (Uganda)
Africans on Fifa Council: Ahmad, Nyantakyi, Selemani, Camara, Bouchamaoui, Hany Abo Rida (Egypt), Lydia Nsekera (Burundi)