Nigeria's Onazi backs changes to Africa Cup of Nations
Last updated on .From the section Football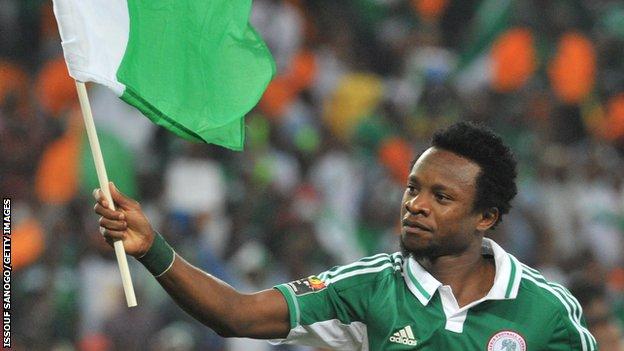 Midfielder Ogenyi Onazi, an Africa Cup of Nations winner with Nigeria, has backed radical changes to African football's showpiece event.
Onazi, who is now with Trabzonspor in Turkey, was a Lazio player when winning the Nations Cup with Nigeria in South Africa in 2013.
He says the new timing will ease the pressure on European clubs and their African stars.
"When you finish a [Nations Cup] game and if you finish before the finals, your [club] team has to give you a phone call and you need to come back immediately," Onazi told BBC Sport.
"Even when we won the Afcon in 2013, my team called me immediately, saying that I should fly from South Africa to the club because we had a Europa League game.
"I told them it's not possible because we'd just won the tournament.
"I needed to go back to my country and try to see what we were going to do there - and then I'd come back," Onazi said.
Onazi, who played a key role in helping Nigeria lift the trophy four years ago, says the new changes will also take away any uncertainty surrounding the availability of players.
"I've heard about experiences of other players too - they [the clubs] don't allow them to come.
"They just tell them when it's like two to three days to the tournament and then they allow them to come - and this has been the difficulty," Onazi added.
The expansion of the Africa Cup of Nations has also been welcomed by Onazi.
"It's another good innovative for some of those African countries that were not able to make it while it was 16 [teams] or so," Onazi explained.
"Now they'll have the opportunity to exhibit themselves because you never can tell; a little country will have some great talents but because they are not able to make it to the 16 you are not able to see those talents.
"But now they have an opportunity to come in, and for me it's also good for their own development."