Neil Doncaster invites fans to air views on SPFL's handling of EBT issue

By Chris McLaughlin
BBC Scotland
Last updated on .From the section Football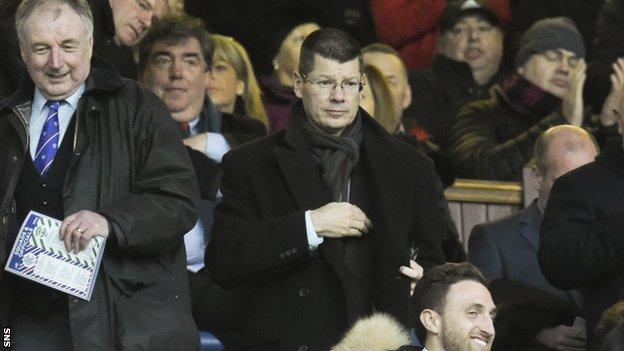 Scottish Professional Football League chief executive Neil Doncaster says the governing body will meet fans with views on their handling of Rangers' use of Employee Benefit Trusts.
"Rod Mackenzie [SPFL lawyer] and I are happy to meet with supporter groups who have concerns," Doncaster said.
"There is a great deal of misunderstanding about what has happened here."
The SPFL have called for an independent review of Scottish football governance and the way Rangers' financial problems were dealt with, but also into their new, more robust rules on non-payment of taxes.
After the Supreme Court ruled this month against Rangers over their use of EBTs from 2001 to 2010, the SPFL sought advice from Queen's Counsel Gerry Moynihan.
Some fan groups from rival clubs want further action to be taken, and Doncaster acknowledges the differing points of view that exist across the full range of Scottish football.
'I understand that passions run high in this area'
He emphasises, though, that the league has no room for manoeuvre other than to encourage the establishment of an independent review, which would need to be instigated by the Scottish Football Association.
"I understand how fans feel, we get correspondence on a daily basis from fans who are concerned about this issue and wish their opinion to be heard," Doncaster said.
"I understand that passions run high in this area. That is football. As the board of the SPFL, what matters is the clear legal advice that we've had.
"The opinion is very clear, the SPL [the top flight's previous governing body] prosecuted Rangers to the fullest extent that we could. We pursued it doggedly and that ended up at the Lord Nimmo Smith commission [in 2013] and that independent commission decided that the appropriate sanction was a fine of £250,000.
"Various people may have views on the sufficiency of the sanction that was reached by three eminent QCs (who) determined that was the right sanction for those breaches of SPL rules as they were at the time.
"What Gerry Moynihan has made absolutely clear to us is that the SPFL has no legal power to reopen that Lord Nimmo Smith commission and decision."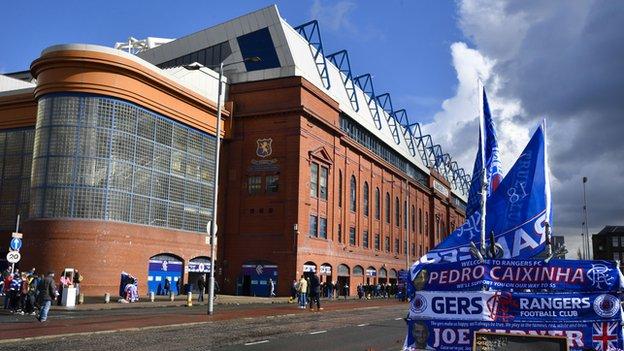 Doncaster defended the Scottish Premier League's handling of the Rangers case, insisting that the rules on tax payments in place while the Ibrox club operate the EBT scheme were similar to those in leagues across Europe.
He insists, though, that the SPFL would welcome any scrutiny of their current rules, and any potential improvements, which could come from an independent review.
"If you look at the rules of this area across European football, there's been a huge change," Doncaster said.
"Financial Fair Play is a relatively recent phenomenon. In the period from 1999 into the first part of the millennium, those rules were not in place across Europe.
"We've created what we believe to be a very robust rule book since 2012 to ensure that there can never be a repeat of this sort of situation. We believe those rules are in good shape, but if an independent review shows that improvements can be made then we will take those on board.
"(Any review) needs to cover as many areas as possible to ensure there is a full examination. The terms of reference of the review clearly need to be agreed with the Scottish FA as the governing body and we would hope they would participate in that discussion."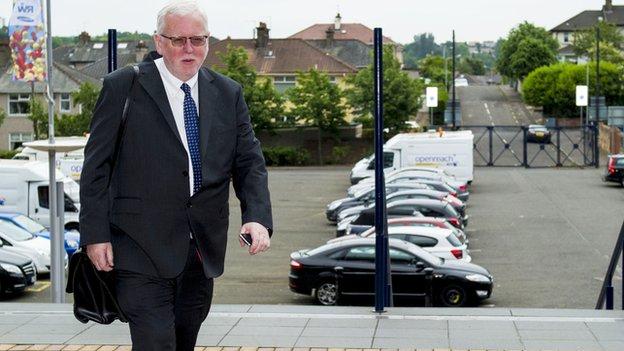 SPFL chairman Ralph Topping believes that only an independent review of Scottish football governance in the early part of the millennium can draw a line under the issue.
"In any sphere, whether it be in business or in a country like South Africa which went through far more trauma than we would see in Scottish life, there's a process, where you've got to go through self-examination, you've got to look at what you've done and put that under scrutiny with tough questions asked, with independent people reviewing what can be improved, what might have been done, what should have been done, where fault lay in an unthreatening environment," Topping said.
"The reviewers will form a view and they will give opinions. Whether or not that satisfies the fans, it may put what has happened under a different light.
"Who knows what they will say? All I will give a commitment to is that we will acknowledge any criticism that comes our way. We've always asked ourselves what's the right thing to do and in this particular circumstance it's to have a review.
"At some point we have to draw a line under it. (A review) gives people the opportunity to give their opinions, fans groups, football clubs and others with an interest in Scottish football.
"There are plenty of good people in Scottish football and sometimes good people's judgment isn't all it should be. A review body will be able to point out what they think should have happened."