Dundee: Darren O'Dea tips club to enjoy a great season under Neil McCann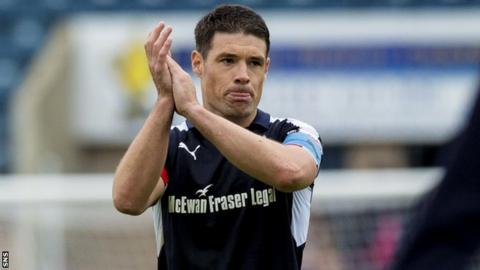 Darren O'Dea believes Dundee will enjoy a fine season on all fronts thanks to manager Neil McCann's relentless will to win.
McCann swapped the TV studio for the touchline last season, guiding Dundee to Premiership safety in a five-week spell as interim manager.
He was instilled as boss in the summer and skipper O'Dea is relishing working under the former Scotland winger.
"He's probably the most competitive person I've ever come across," he said.
"As a manger he's very demanding, which is good, and he expects nothing less than winning. That's probably down to his own career as a player, which is good for us. It's something I hope does rub off on everyone.
"Every day he demands very high standards and if we fall even slightly below that, it's unacceptable. Everyone is buying into that and it stands us all in good stead that we can go on and have a good season. A club like Dundee needs those standards.
"There are teams you would associate with being happy to stay in the top league but have gone on and won cups - Dundee haven't done that in a long time and the manager feels, and I have been at the club long enough to know, there's sometimes an acceptance of just surviving. We did that last season, we just survived, so we raise the standard now and the expectation on ourselves. Hopefully we can reach those expectations.
"We're quietly confident we can have a really good season, both in the cups and the league, but make no mistake about it, it's going to be difficult."
McCann, who started his club career at Dundee and went on to enjoy successful spells at Hearts and Rangers, has made a strong start to his first full season in charge at Dens Park.
Dundee won three out of four League Cup group games and drew their last pool match against rivals Dundee United, with the Tannadice men taking the bonus point by winning the penalty shootout.
The two Dundee sides were, however, drawn to meet again in the last 16, much to O'Dea's delight after United's relegation to the Championship ensured there were no city derbies last term.
"It was a great atmosphere to play in so I'm looking forward to the next one, but obviously we're hoping to go one better and win the game," club captain O'Dea added.
"It's important for the club to go on a cup run and this is an opportunity for us."
The derby match is on 9 August, but O'Dea says the Dundee camp are now fully focused on the Premiership kick-off at home to Ross County on Saturday.
"It (League Cup) couldn't have gone much better but the real stuff starts now - this is when we're really tested and when we're shown how well we have gelled," the Irishman added.
"Certainly, we go in with quiet confidence that we've done all the work we possibly can, we'll be fully prepared and we're looking forward to hopefully a positive season."