EFL Cup: Newport boss Mike Flynn targets Leeds scalp as well as big pay-day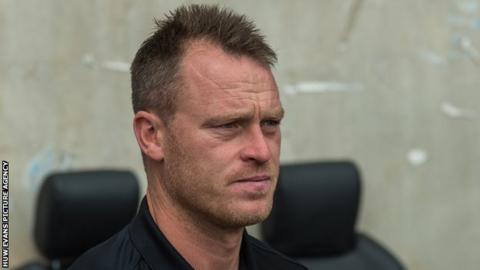 Newport County boss Mike Flynn aims to knock Leeds United out of the Carabao Cup despite their host's generosity.
Tuesday's second-round tie will be held at Elland Road, because County play all their early games on the road as a new pitch is laid at Rodney Parade.
Leeds have agreed to honour the usual 45% share of gate income with Newport despite not being required to.
"It's a touch of class, but we'll be going to Leeds looking to win the game," said Flynn.
County set up the clash thanks to a 2-0 win at Southend in the first round of the competition.
Flynn said a run in the Carabao Cup could well do the Welsh club's finances the power of good.
And Flynn, who took charge at Rodney Parade in May, has fond memories of Elland Road having scored an amazing goal as a player for Bradford in a clash in the same competition against Leeds six years ago.
And despite Bradford eventually losing 3-2, thanks to a strike for Leeds from former Cardiff city striker Ross McCormack, Flynn said it was an experience he would never forget.
"It's brilliant, I was fortunate to play there for Bradford, live on TV and I scored a 30-yarder with my left foot, in the top corner," said Flynn.
"It was a big derby with 37,000 people there, It was a great atmosphere.
"It's a great stadium and a great club, full of history, they've had legends there over the years, players and managers.
"And the gesture they've made to the club with an even share of the gate money is brilliant, and I would like to thank Leeds. It's not gone unnoticed by me or the club.
"It's huge for us. when we beat Southend I was asked who we wanted to play and I said whoever makes the club the most money. Outside the bigger Premier League, Leeds are one of those clubs so it was a good draw.
"It's a tough ask, but if the players are not looking forward to that then they are probably in the wrong game. Let's go there and give a good account of ourselves."
But Flynn admitted, as nice as a cup run might be for his side, avoiding the drama of last season - when the Exiles avoided relegation from the Football League on the last day of the season - was the main priority.
He added: "If we can beat Leeds and get another big draw we can fill the coffers and I'm sure the board would be happy with that.
"But the league is our bread and butter, I want to get up the table, get points on the board and anything else in the club is a bonus."