Ady Pennock: Gillingham boss 'a little worried' about lack of goals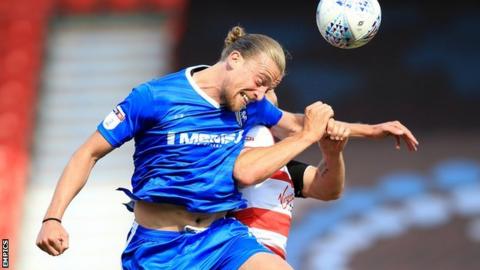 Gillingham head coach Ady Pennock says he is slightly concerned at his League One side's failure to score goals.
The Gills are the only team in the English Football League to have not found the net so far this season, after four league and cup games.
"We've been in every game but there's no point being in every game if you don't score a goal," Pennock told BBC Radio Kent.
"Football's not rocket science. If you don't score, you don't win games."
Gillingham drew 0-0 at Doncaster on the opening day of the League One season but have since been beaten by a single goal by Bradford and MK Dons.
They also lost 2-0 at Reading in the EFL Cup and drew 0-0 at Northampton on the final day of last season, meaning they have played 475 scoreless minutes since Rory Donnelly's goal against Fleetwood in April.
"If we weren't creating chances then I'd be worried," said Pennock.
"Maybe I'm at the stage where I'm a little bit worried we're not scoring, but we'll keep working very hard in training and maybe that'll come next week."