Scottish women's champions to receive prize money for first time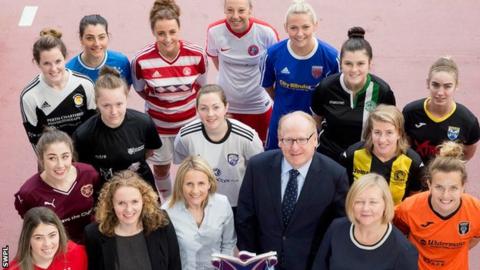 Winners of the Scottish Women's Premier League will receive prize money for the first time next season after a six-figure sponsorship deal was agreed.
Scottish Building Society will give its backing for the next three years.
Scottish Women's Football chair Vivienne MacLaren said: "We have new appointments at the SWF team, seen a surge in media interest and now we have a new major sponsor.
"Everything is moving in the right direction."
MacLaren said that it was "icing on the cake" after "a wonderful year for women's football in Scotland".
The national team reached this summer's Euro 2017 finals - their first major tournament.
Scottish Building Society will sponsor the top two senior leagues - SWPL 1 and SWPL 2.
Chief executive Mark Thomson said his company hoped "to help unlock the potential of the sport and support its future development here in Scotland".
"This is an exciting time for women's football and we look forward to working with Scottish Women's Football to develop the sport over the coming years," he added.
Glasgow City have won the Scottish women's title for the last 10 seasons.
However, last year's runners-up, Hibernian, lead the 2017 table by two points having played one game more than the holders.