Newport County: League Two side set for first game on new pitch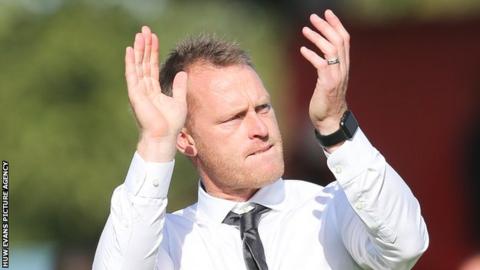 Newport County manager Mike Flynn hopes the first experience on the new Rodney Parade pitch will be a successful experience for his side.
A new £750,000 Desso pitch was installed over the summer after the Welsh Rugby Union takeover of the Dragons. Newport RFC also play there.
Newport been unable to train on the surface before Saturday's League Two match against Chesterfield.
"There are no concerns," said former Exiles player Flynn.
"If anyone uses that as an excuse they are kidding themselves. We will do the warm up and will be ready to go.
"There are no excuses because Chesterfield have not been on it either."
The old Rodney Parade surface was considered to be one of the worst in the Football League as three Exiles home fixtures were abandoned or postponed during the 2016-17 season.
"It will be green instead of golden sand!" said Flynn.
"It looks fantastic.
"It might take us one or two games to get used to, but we are hoping we can play some good football and keep the fans on the edge of their seats."
Two away draws and a win
Newport have played three league away games at the start of the season with draws against Stevenage and Crewe and a victory at Coventry.
With more than 3,300 tickets already sold for the Chesterfield match, Flynn hopes to recreate the atmosphere of the 2-1 win over Notts County on the last day of the season in May which ensured Newport's League Two survival.
"Playing away has not been ideal, but the players have been fantastic and taken things in their stride," said Flynn.
"We all know what an occasion it was at the end of last season although it is different this time because it's not do or die."