Hoffenheim fan who brushed teeth at Liverpool tie blames 'bad' beer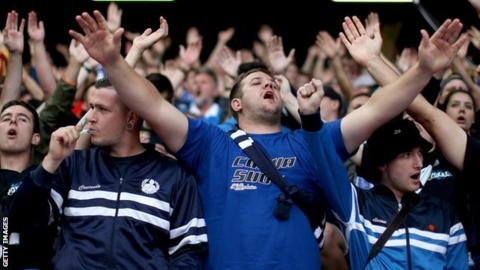 A German football fan who was spotted brushing his teeth during his team's Champions League meeting with Liverpool blamed the taste of "bad" English beer.
The fan, who gave his name as Sven S, travelled to watch Hoffenheim in their 4-2 play-off round defeat at Anfield.
But the mechanic from Cranheim told a German radio station he had been drinking English beer and needed to freshen up - so pulled out his brush.
"I had to get rid of the bad beer taste," he told Radio Regenbogen.
"After a 25-hour drive with the bus from Germany to Liverpool I simply needed to freshen my mouth.
"We had some English beer and then directly went to the stands."
Asked if his mother would be proud of him, he told the Mannheim-based station: "Who would not be?
"Which mother has a son that shows the whole world that he brushes his teeth."
Liverpool secured a 6-3 aggregate victory to earn a place in the Champions League group stages.