Paul Clement: Swansea City head coach involved in transfers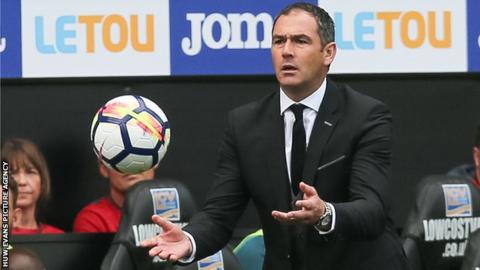 Swansea City head coach Paul Clement says he has a major say in the club's transfer dealings.
Sam Clucas became the Swans' fourth summer signing as they rebuild after Gylfi Sigurdsson's £45m Everton move.
It has been suggested previous transfers - such as Tom Carroll, Martin Olsson, Luciano Narsingh and Jordan Ayew in January - have been more the work of club chairman Huw Jenkins.
But Clement said: "I like to be involved."
He added: "It is very important the club and myself work together on identifying and recruiting the right target.
"There is nothing worse than when - and this has not happened here, but in other situations - a player just arrives and it is a case of 'there you go, here he is'.
"It can be great and you think it's a fantastic unexpected signing, or it can be a feeling that you don't want him.
"The last window I was an influence on Martin Olsson because I had worked with him before, the others were a bit more advanced, but I had to make sure I was comfortable with all of them and I did my research."
Swansea were bottom of the Premier League table when Clement was appointed on 3 January, and the former Real Madrid and Bayern Munich assistant manager inspired a remarkable escape from relegation.
That was aided by the January arrivals of left-back Olsson, midfielder Carroll, winger Narsingh and forward Ayew, all of whom were targeted by Swansea before Clement joined.
However, the 45-year-old played a part in those deals, and he has been more influential with this summer's acquisitions of midfielders Clucas and Roque Mesa, goalkeeper Erwin Mulder and striker Tammy Abraham, who Clement knew from his time at Chelsea.
"This time we have had more time to do that due diligence," said Clement.
"It's the worst possible situation, if a player arrives and you feel he is not the right fit and not the position you wanted.
"It's bad for the coach, the team and the player.
"But we are not in that situation here, we are talking all the time. Myself, the chairman, the owners, about what I think we need. There is open dialogue and open communication."
Clement has said he wants to make at least two more signings before the transfer window shuts on 31 August, with players in "forward positions" his priority.
Swansea are in talks with former striker Wilfried Bony about a potential return from Manchester City, while West Brom winger Nacer Chadli also remains a target.
Crystal Palace - back to where it started
The Swans have drawn and lost their opening two games of this Premier League season, and they visit another winless team, Crystal Palace, on Saturday.
It was at Selhurst Park where Clement started his Swansea reign, watching his new side play against Palace on the day of his appointment in January.
Alan Curtis was in caretaker charge of the Swans following Bob Bradley's sacking and, although Clement watched most of the game from the stands, he dashed down to the dugout during the second half and Angel Rangel's late goal gave his new charges a vital win against their then relegation rivals.
It was a dramatic introduction for Clement, and one which came after a whirlwind few days.
"The day before I'd driven from Austria to Munich because I was skiing," he said.
"It's a long drive, I think it's about 16 hours. I had to stop overnight somewhere in Germany.
"Then I got my stuff in Munich and drove all the way back to London, so I arrived on the second [of January] in London.
"I had a night in my house and the next day I travelled to the hotel where the team were, met the chairman, signed a contract and then was introduced to the players.
"I said a couple of things, wished them all the best and then went to the game. It all happened very quickly."
Given that Clement's move to the dugout coincided with Swansea's winner, does he claim the victory as his own?
"No, Alan was there as the caretaker manager. I was just happy I could help in some way," Clement added.
"It was important for me in the first game to get involved. I didn't want to be seen as someone who's signed his contract but is sat up there [in the stands], doing the observation.
"Whatever had happened, that was not on my watch. I'm here now, I've signed my contract, I'm part of it, I'm going to get down there and help in any way I can. I came down and Palace equalised - I should've gone straight back up!
"I did stay down, we made a couple of changes to the team and Angel got the winner."
Loftus-Cheek could have been a Swan
When Clement returns to Selhust Park, Palace will be without a player he twice tried to sign for Swansea.
Highly-rated midfielder Ruben Loftus-Cheek, 21, is on a season-long loan at Palace from Chelsea, but will be sidelined by a groin injury.
"I worked with Ruben at Chelsea in the age-grade set-up," said Clement.
"I know him well and I have monitored how he has developed. He is a player I had thought about in the past as an option to bring to this club.
"We looked at him in January, but Chelsea did not want to loan him at that point.
"This summer I looked again, but you can only have two loan players from other Premier League clubs, and no more than one from any single club.
"That meant there was no prospect of bringing in Tammy and Ruben, and Tammy was our priority.
"But Ruben is a good player, he deserves the chance and he has time."