Nacer Chadli: Tony Pulis confirms Swansea City interest in West Brom winger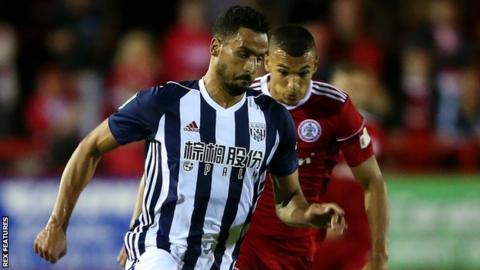 West Brom manager Tony Pulis has confirmed Swansea City's interest in Baggies' winger Nacer Chadli.
It is understood Chadli, 28, has been a target for the Swans even before he joined Tottenham from Twente in 2013.
The Welsh club tried to sign him before his move from Spurs to West Brom last year, and Chadli's future at the Hawthorns is in doubt after his argument with Pulis.
"What was said was said and you move on," said Pulis.
"That's the way I've always been in life.
"Swansea are interested in him. I would say Swansea and West Brom are a lot closer than Man City and West Brom [regarding Jonny Evans' potential move to City].
"But it doesn't hide away from the fact that both parties have to lean and lead to one point where both are happy and it's not happened yet."
Chadli has only made one appearance for West Brom this season, Tuesday's EFL Cup win at Accrington Stanley.
Asked if he and Chadli had 'kissed and made up' after their argument, Pulis said: "Well there was no kissing. There was no making up."