Sol Bamba: Neil Warnock a 'father figure', says Cardiff City defender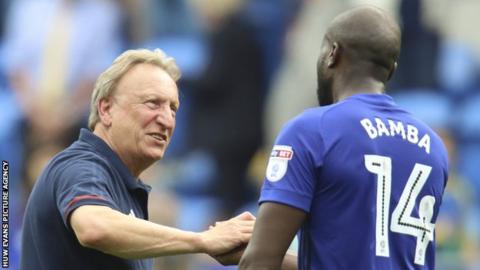 Cardiff City centre-back Sol Bamba has described manager Neil Warnock as a "father figure" to him.
Warnock signed Bamba within a week of his appointment in October 2016, and the Ivorian has become a first-team fixture in the Bluebirds' defence.
The 32-year-old agreed a new three-year contract on Friday and scored a day later in the 2-1 win over Queens Park Rangers, Cardiff's fifth in a row.
"He's [Warnock] like a father figure to be honest," said Bamba.
"We've always been in contact and we've never managed to properly work together before.
"As soon as he had the chance to bring me in he did and as soon as I had the chance to work with him I took it.
"We've got a very good relationship - we don't even need to talk, we understand each other. He's given me a lot of confidence to express myself on the pitch.
"He's very good with the lads, jokes around a lot but at the same time he's straightforward and I think footballers appreciate that.
"When it's not good he'll tell you as it is and when it's good he's happy to praise you, and that's what we like."
Bamba and Warnock's relationship has not always been a simple one.
Cardiff's manager had to physically restrain the defender after he was sent off and clashed with the fourth official during last season's game at Ipswich.
However, they have since smoothed things over and, after finishing the last campaign in 12th place, Cardiff have made a blistering start to this season.
They have won all five of their league games so far and sit three points clear at the top of the Championship table.
"He's [Warnock] been great for me personally, but I think everything in the club, my team-mates, the fans and even the media have been nice to me and I'm really enjoying my time here, which I hope continues for the next few years," said Bamba.
"It's very early doors but if we keep winning games that [promotion] is where we're going to start looking.
"We've got a good side, we're winning games and hopefully that'll continue.
"I think we've got a good squad altogether, so I think we've got a good chance and the main thing is the mentality of the squad, whether you're playing or not, and whoever comes in has to be ready to put in a good shift for the team."
After the break for international games, Cardiff return to action with a trip to face Fulham on Saturday, 9 September, then go to Preston North End three days later.