Muhamed Besic: Everton and Bosnia midfielder plays despite father being shot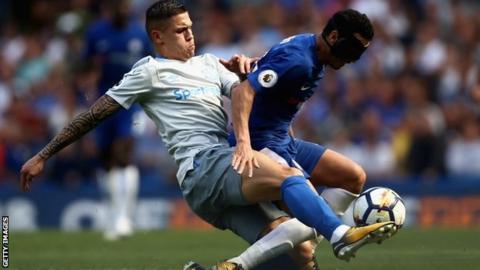 Everton midfielder Muhamed Besic played in Sunday's 2-0 defeat at Chelsea, a day after discovering his father had been shot.
His father, Meho, was reportedly shot in the hand and leg and had to go to hospital following a dispute in his native Bosnia-Herzegovina.
It is unclear how serious the injuries are.
Toffees boss Ronald Koeman said: "When I spoke to him, he said before the game he was ready and committed."
The Dutchman added: "I spoke to him yesterday evening. He spoke to his father. I don't like to talk in more detail. This is a family matter.
"We will see what happens after the game. I don't know exactly what happened, but what came out in the papers is true."
Bosnia international Besic, 24, came on at half-time in the Toffees' loss on Sunday.