Callum Stanton: Bournemouth loanee praised after Guernsey FC debut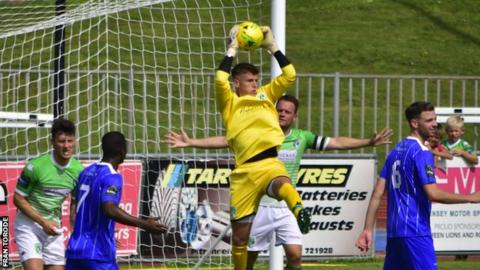 Guernsey FC boss Tony Vance says on-loan Bournemouth keeper Callum Stanton made an "outstanding" debut in their 2-1 home defeat by Greenwich Borough.
Stanton only heard of interest from the Isthmian League Division One South side on Friday, a day before the match.
The 20-year-old told BBC Radio Guernsey: "To be honest I didn't know where it was at the start.
"I'm not very clever geographically, so I didn't know where it was, and didn't know I had to fly, for one."
Stanton flew to the Channel Islands from Southampton, and is set to stay with Guernsey FC until 2 January.
He made a number of impressive saves at Footes Lane, but could not stop his new side from a second loss from three league games this season.
Vance added: "But for Callum in goal it would've been a lot more - I thought he was outstanding.
"Sometimes these things happen quickly, and during Friday we were offered Callum through networks we've built up.
"My only concern about him is that he probably thinks we're that bad every week."