Garth Crooks' team of the week: Mendy, Ritchie, Sterling, Abraham, Salah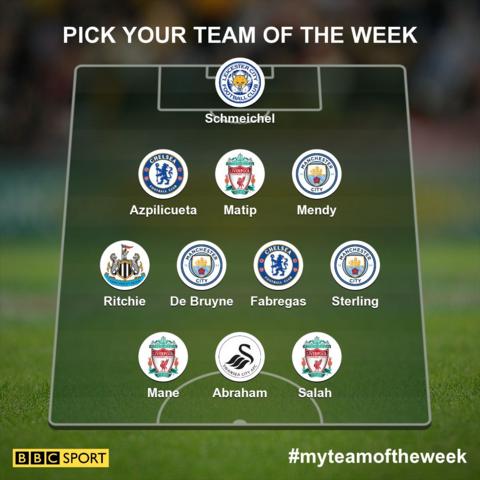 Manchester United maintained their 100% winning start to the season with a home victory over Leicester.
It was also a good weekend for Liverpool, who thrashed Arsenal at Anfield, Chelsea, courtesy of a victory over Everton at Stamford Bridge, and Newcastle and Swansea, both of whom claimed their first win of the season.
Tottenham were denied a first win at their new Wembley home by a late Chris Wood goal for Burnley.
Huddersfield remain unbeaten, as do Manchester City, Southampton, West Brom and Watford, but Bournemouth and Crystal Palace are still looking for their first point of the campaign.
You can see the thinking behind my team below but, first, have a go at picking your own team of the week.
You can pick your own team of the week from the shortlist selected by BBC Sport journalists and share it with your friends.
Pick your Team of the Week
Pick your XI from our list and share with your friends.
If you can't see the selector, please use this link to pick your XI.
Goalkeeper - Kasper Schmeichel (Leicester)
When have you seen a goalkeeper save a penalty and not move before it was taken? Never, is the answer. But that does not take anything away from the fact that Schmeichel's save from Romelu Lukaku in Leicester's 2-0 defeat at Manchester United was still top class.
To have conceded two goals and still get in my team of the week you must have had one hell of a game. It's clear to me that Schmeichel just loves playing at Old Trafford. How extraordinary that he has saved more penalties at the ground than his father Peter did when he had the honour of playing for the Red Devils between 1991 and 1999.
The truth is that had it not been for Kasper it could have been 5-0 and it was the Dane's outstanding performance that kept Leicester in the game for so long.
Here's a thought: if David de Gea were ever transferred to Real Madrid, would Schmeichel have what it takes to replace him? I think he would, you know.
Defender - Cesar Azpilicueta (Chelsea)
In the days when Azpilicueta was playing left-back for Chelsea, I distinctly remember him running into some great positions, looking for the ball and actively being ignored by some of his Chelsea team-mates.
Given the fact that, at the time, Chelsea had some wonderful ball-players and creative technicians in their team, I did have some sympathy with their decision-making. However, since those early days at the Bridge, Azpilicueta has grown into one of the most complete players in the Premier League.
The defender still makes himself available. The only difference is that no-one in the Chelsea team would dare ignore him now.
His pass for Alvaro Morata to score Chelsea's second against Everton on Sunday was absolutely exquisite and typifies the way the defender has developed his game in open play. He has done it before and I have no doubt he will do it again.
Defender - Joel Matip (Liverpool)
I don't think that Matip is the answer to Liverpool's long-term prospects at the centre of their defence but against Arsenal he put himself on the line for his team and you can't ask for more than that.
He saw off Alexis Sanchez, Danny Welbeck, Alexandre Lacazette and Olivier Giroud all in one afternoon.
That his team scored four goals against the Gunners, which is a major achievement, but also kept a clean sheet in a match of such importance was impressive. Matip was at the heart of that accomplishment and it deserves some recognition.
Arsenal were poor against Liverpool and I can't work out the reason for such a woeful performance in such an attractive fixture. What I did learn was how to manage your emotions in a post-match interview.
As abject as Arsenal were, manager Arsene Wenger was absolutely masterful at not blasting his team publicly, instead offering quiet reflection and allowing time for him and his players to put things in their proper perspective.
I agree, Arsene. Wait until Monday.
And then rip them to shreds.
Defender - Benjamin Mendy (Manchester City)
Benjamin Mendy is an absolute beast. We saw his strength and power when he performed magnificently for Monaco in the Champions League last season.
If the first-time ball he crossed for Gabriel Jesus - who put it wide - in Manchester City's 2-1 win at Bournemouth is anything to go by, then City have a real talent on their hands. There are very few full-backs in the Premier League with the courage to deliver a first-time cross. However, to do it on the volley is quite something.
That wasn't the only element of his game that impressed me either. The Frenchman was always in line with the ball every time City appeared to be in control of possession, particularly in advanced areas, and he always seemed available to receive the ball.
I only saw him fluster once in the entire game and even then he recovered the situation. I can't help feeling that Mendy might be better suited in a back three as opposed to a four, but with Pep Guardiola in charge he might even play him up front!
Midfielder - Matt Ritchie (Newcastle)
It was only on the third attempt that Newcastle's Matt Ritchie eventually managed to rob Manuel Lanzini of the ball and produce the cross of the match for Ciaran Clark to convert and dump West Ham well and truly at the bottom of the table.
It couldn't have gone much worse for the Hammers at St James' Park. Until this point the east Londoners were still in the match.
Slaven Bilic had gone to some lengths last week talking his team up after their performances against Southampton and Cheltenham in midweek. However, none of that will mean a row of beans after this performance. Nor will it alleviate the pressure he now finds himself under going into the international break.
The Newcastle fans, on the other hand, were chanting Rafa Benitez's name throughout, which speaks volumes about the way they feel about their manager. Nevertheless, Benitez needs to add more quality to this team particularly as Jonjo Shelvey and Aleksandar Mitrovic cannot be trusted not to leave some of themselves on one of their opponents.
Fortunately, Benitez invested wisely in Ritchie - a player with brains as well as heart. The Scotland international is starting to catch the eye and prove he can cope with the pressures and demands of the Premier League.
Midfielder - Kevin de Bruyne (Manchester City)
The king of the assists is back. De Bruyne's performance against a very unfortunate Bournemouth was superb. The variety of passing, not to mention the precision of his through balls, was just immense and without the Belgian City would have been sunk.
De Bruyne's abilities are perfectly suited for the likes of Gabriel Jesus and Raheem Sterling, whose darting runs were like cruise missiles piercing the heart of the enemy and provided the finishing touches to the Belgian's marvellous creativity.
It was this football that created the excitement and expectation for City fans and the gut-wrenching anxiety for their hosts, resulting in the visitors' celebrations at the end of the game.
It was during that euphoria that I witnessed a member of the local constabulary utterly defuse a situation and calm Sergio Aguero down after he had been spoken to by a steward as though he were a child. I would like to personally thank the police officer for acting so sensibly and not imposing the 'letter of the law'.
If he had arrested the Argentine striker, I dread to think the mayhem it would have caused - carting such a high-profile player off to Bournemouth police station, as he was perfectly entitled to do according to the 'letter of the law'. Thank goodness the officer didn't exercise such bullish behaviour. Perhaps referee Mike Dean might learn a thing or two about acting in the best interests of all concerned.
Midfielder - Cesc Fabregas (Chelsea)
I thought Chelsea were fantastic last week against Tottenham, bearing in mind their injuries and suspensions, which included Fabregas. They looked just as purposeful with the Spaniard back in the side against an in-form Everton.
What is blowing me away at the moment is the way Chelsea boss Antonio Conte continues to set up his teams, regardless of injuries and suspensions, and still gets the best out of his men.
Fabregas came back into the team and played like he had never been out, and scored an opening goal which oozed pure class.
I thought that he might have left Chelsea at the end of last season. He's never been quick and he can't cover the ground with the same energy as in previous years. Nevertheless, he seemed to be as committed as ever to the Chelsea cause, whatever that is this season.
With both Manchester clubs obsessed with the Premier League title I can see Chelsea winning the FA Cup. They are very capable of winning that but I can't see Fabregas, or Conte for that matter, winning anything else, even with the Spaniard in this mood.
Midfielder - Raheem Sterling (Manchester City)
A travesty is what it was. There is no other word to describe Mike Dean's handling of Sterling's goal celebration, which resulted in the official sending City's match-winner off the field. It was such a distortion of the official's role it has made a mockery of the game.
Technically Dean could have sent Bournemouth's Charlie Daniels off for kicking the corner flag during his goal celebrations but he chose not to and quite rightly.
Is this what the game has come to? At a time when transfers are spiralling out of control and taking the professional footballer further away from the man on the street, who pays every penny he has to see his hero perform for his team?
Dean, the world's most prolific spoiler, rips the heart of the most precious moment in football by insisting the player can no longer celebrate a goal with the fans. And why? Because the 'letter of the law' allows him to. It always did, yet I can't remember great luminaries like British World Cup referee Jack Taylor or Italian official Pierluigi Collina behaving so pompously. Both were immeasurably better referees than Dean.
I hope that the sending-off of Sterling is sufficient and that a lack of common sense doesn't prevent the player appearing in City's next game against Liverpool, although I won't hold my breath.
Forward - Sadio Mane (Liverpool)
Those of you who regularly read my team of the week will know how much I think of Mane's Liverpool team-mate Philippe Coutinho. However, with Mane looking so impressive at the moment it makes you wonder why Liverpool are deliberating over Coutinho's proposed move to Barcelona.
It seems to me that Mane is the perfect replacement to take over from the Brazilian as Liverpool's main man, never mind that £100m-plus is simply too good to turn down for any player, never mind one who only cost you £8.5m in the first place.
Liverpool are a wonderful club with a magnificent stage and they are very capable of finding another Coutinho. In fact, I already think they have one and his name is Sadio Mane.
Forward - Tammy Abraham (Swansea)
I first noticed this lad in the Under-21 European Championships in the summer. He was impressive during that tournament but I didn't think he was ready for first-team Premier League action.
However, having seen Abraham give Manchester United a hard time, and then play his part in destroying Crystal Palace, I have decided to revise my position.
Abraham is athletic, willing to work the channels and brings his team-mates into the game nicely when required. There is also a useful partnership developing between Abraham and Jordan Ayew which, given time, could prove to be a determining factor this season for Swans boss Paul Clement.
As for the Eagles, well they are as close to a crisis as it gets. I said in my team of the week, after their defeat against Huddersfield two weeks ago, that I wasn't sure manager Frank de Boer could do this job and I am still not convinced.
While there is no need for Palace to panic just yet, I couldn't help but notice director Steve Parish paying an awful lot of attention to his mobile phone messages when his team were 2-0 down. I wonder if he was texting Sam Allardyce?
Forward - Mohamed Salah (Liverpool)
I saw this lad play for Chelsea and I got the distinct impression that he was certainly good enough, but I think the move came a tad too soon and he wasn't given enough time to make an impact.
Coming to terms with a big stage is one thing but when that club is fighting on all fronts you have to hit the floor running. His time with Roma, however, gave him the chance to grow as a footballer in readiness for the challenges ahead.
Liverpool has come at the right time for Salah. He is an exciting player with bundles of ability. He also quick with an eye for goal, a point that was rammed home when the Egypt international robbed Hector Bellerin of the ball on Sunday while still in his own half, ran half the length of the pitch and still no-one in the Arsenal team could catch him. Then, without even breaking stride, he coolly stroked the ball past a helpless Petr Cech.
Salah's arrival on to the scene at Anfield is further proof that the deal for Coutinho is simply too good to turn down - so get on with it.