Dundee expect to be playing in a new stadium by the 2020/21 season - John Nelms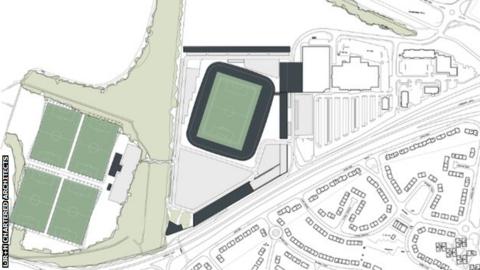 Dundee managing director John Nelms says the club could be playing in a new stadium within three years.
The Taysiders have announced ambitious plans for a new home ground along with a joint training and community facility near the city's Camperdown Park.
And Nelms is confident they will have the funding in place, with 29 acres of land near the city's Ice Arena last year already purchased.
"We wouldn't have bought the land if we didn't think we could do it," he said.
"We've been working on that (funding) for over a year now. We've put a lot of financial resources in and time, and we'll continue to do so until we get to a conclusion.
"The public process has started. On Friday we submitted more documents to the city council. Ideally we'd like to start in the 19/20 season but I don't think that's realistic. Probably the winter of 19/20 or the beginning of the 20/21 season."
In March, Nelms revealed the club's intention to move from Dens Park to a new custom-built facility.
He said the Scottish Premiership side was currently trying to give a "21st Century entertainment product in a 19th Century building".
He told BBC Scotland: "We try not to speak about things until we get them in motion, so we haven't really been talking about it a lot. The public meeting that we'll have on September 22nd will bring to light a lot of what our intentions are.
"Behind the scenes we'll keep grinding away and hopefully we'll come away with a stadium and a fantastic development that helps feed the whole machine.
"It gives Dundee Football Club a training ground and a home for all of our kids to develop through all the way through to the first team. It gives us a place where we can expand our community department from where it is at the moment.
"It becomes a facility we can use seven days a week. Just now we don't utilise this facility (Dens Park) very often, maybe 20-25 times a year. We do very little when it comes to commercial activities within the building.
"That's just not sustainable, especially in a ground that costs us nearly £300,000 a year just to keep it standing."