Chris McLaughlin's words of the weekend: Tommy Wright - master of the understatement?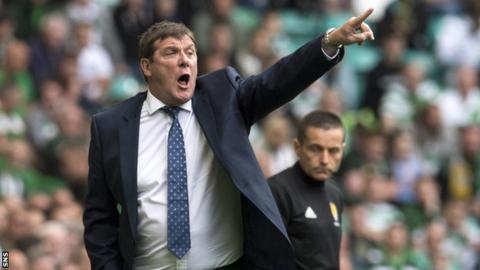 BBC Scotland's senior football reporter, Chris McLaughlin, analyses a talking point from the weekend's action, asking what's behind the words.
St Johnstone manager Tommy Wright
"To have 10 points out of 12, I can't really complain."
Tommy Wright is becoming known as the master of pulling off the highly improbable, but the St Johnstone manager's comments in the wake of yet another deeply impressive result - a 1-1 draw away to champions Celtic - got me thinking: is he also a master of the understatement?
If we were to take his words literally, we would have to deduce that Wright has such belief in his band of brothers, collectively and individually, that no battle is too big.
I sat in the BBC Radio Scotland Sportsound studio with him last week as Michael Stewart mercilessly taunted fellow pundit Steven Thompson, on and off air, about his prediction that Celtic would steamroller the men from Perth at Parkhead on Saturday.
Given, at that point, Celtic's run of 52 domestic games without defeat and the obvious resource gap between the two clubs, it was an opinion with which many fans would have agreed.
But Wright's reaction was interesting. His smile suggested he had absolute faith in his players.
However, if he was not simply playing down the achievements of his Saints team, then perhaps his post-match statement is part of a very impressive bluff, that he's riding a freak wave until it dumps him and his players on the shore.
The 53-year-old would himself concede that his team have no right to be third in the Premiership, above teams with much bigger budgets, but it's his job to convince his players otherwise.
Players hear what their managers have to say after matches and portraying complete belief in his boys is a managerial masterstroke of the underdogs - convince them it's where they belong, that it's nothing special.
I remember one former Celtic player telling me that Martin O'Neill once gathered his players in the dressing room before a huge Champions League match and completely convinced them that he would not swap any one of them for any of the star-studded cast awaiting them in the tunnel.
It made them feel 10ft tall and, more importantly, it had the desired effect.
Wright can be a tough man in the dressing room but an even tougher man to read in the interview room. When the microphone is in his face, he rarely rants and raves in defeat, but there is a calm confidence in victory too. It's something of a contradiction given his bubbly and passionate character away from the media spotlight.
Managers have an on-air persona and it's usually for a good reason - it's just that I can't quite work his out yet.
When Wright, a former goalkeeping coach at Shamrock Rovers, arrived at McDiarmid Park as Steve Lomas's assistant, he was an unknown quantity in management terms.
But since taking charge in 2013, he has guided Saints to four top-six finishes, a Scottish Cup triumph, three semi-finals and regular forays into Europe. Quite simply, he has been the club's most successful manager - all with one of the smallest budgets in the Scottish Premiership.
Wright continually baffles fans and journalists alike just when it seems the wave is reaching the shore. It's an old-school lesson in togetherness in a greedy and fragmented football landscape and that's why we love it.
Ten points out of 12 and not really complaining - bluff or belief? For the fans enjoying the ride, it doesn't really matter.