Craig Levein named Hearts boss: Kris Boyd backs appointment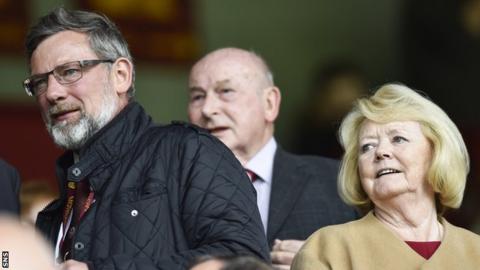 Kris Boyd has backed the appointment of his former Scotland manager Craig Levein as Hearts boss.
"The Hearts fans want a robust team, especially at Tynecastle," said Kilmarnock striker Boyd.
"It's a tight pitch, get the ball in the box, get big strikers on the pitch, cause teams problems.
"That's what Craig Levein's done for a number of years now with his teams. I think it could be a right good appointment here, from Hearts."
'No hiding place'
Former Hearts captain Levein, who first managed the side from 2000-04, has been director of football since 2014, when the club was coming out of administration, and worked above head coaches Robbie Neilson (2014-16) and Ian Cathro (2016-17).
However, Cathro was sacked after the Tynecastle side exited the Scottish League Cup in the first round and under-20s coach Jon Daly was put in charge of the first team for their first four Premiership fixtures - a win, a draw and two defeats. Hearts are eighth after losing at Motherwell on Saturday.
Daly, who will continue as a first-team coach, was considered for the head coach position and former players Paul Hartley and Steven Pressley were interviewed for the role. Billy Davies, Steve McClaren and Dougie Freedman had ruled themselves out.
"They've spoken to Billy Davies, they've spoken to Dougie Freedman, they've spoken to Steve McClaren," said Boyd. "They didn't feel it was right to go to Hearts at that time.
"There is no doubt Craig Levein is a good football manager. My only concern would be why did he not do it a year ago, why did he not do it when Ian Cathro left? Does he really want to be in this position? I'm not too sure. He might have been forced.
"Everybody after every game is got a say that 'Craig Levein has been involved in this, he's been involved in that'. There's no hiding place now.
"[Owner Ann Budge will have] heard the conversations. She'll know everything that's gone on. Now it's up to [Levein] to go and get this team to perform.
"Craig Levein is a football manager. Yes, he's pulled this director of football from somewhere, Hearts have bought into it. They've done well at the start, they've not done so well recently but Craig Levein's gone back to what he's comfortable with."
'Safe pair of hands'
Michael Stewart had two playing spells at Hearts, the first starting during Levein's maiden spell as Tynecastle manager, and says Levein's "head is well and truly above the parapet" after returning to the dugout.
"It is a bit of a surprise," said the former Scotland midfielder.
"I don't think they set out that this was what they were going to do. There's clearly been a difference of opinion on the board with regards what they were looking to do - Craig Levein wanting to continue down the route of having a youthful coach in place and he would continue as the director of football, I think the rest of the board were wanting experience.
"This seems to be the halfway house or the agreement that they've come towards.
"Is this the right appointment? I think Craig Levein will do a lot better than Ian Cathro. You can guarantee that Hearts will finish in the top six now, they could well be challenging for Europe as well.
"My only real issue is the style. It's going to be a bit attritional. Where's the big vision now? Is this a short-term fix, is it a long-term thing? He's a safe pair of hands, really, but slightly uninspiring."
Due to the expansion of the main stand at Tynecastle, Hearts will not play at the ground until November, with some of their home fixtures being played at Murrayfield.
And Stewart said: "It would appear to me that there wasn't any real experienced manager that was willing to step into the structure that was there and then it becomes a financial thing because I think you can't discount or disregard the stadium issue - it's over budget, it's running late, the extra cost of going to Murrayfield.
"You have this director of football that you're paying, that I would guess is the highest non-playing member of staff."