Patrick Roberts: Celtic best place to develop, says winger after loan move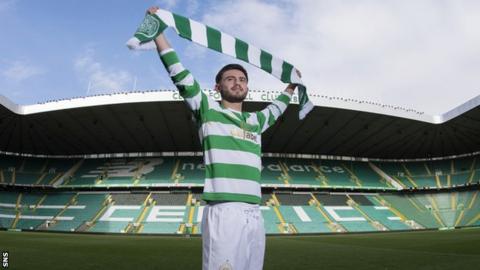 Patrick Roberts has not given up hope of breaking into the Manchester City team, but says Celtic is the best place for him to continue his development.
Having spent 18 months on loan in Glasgow, winger Roberts, 20, has agreed another 12-month stay with the Scottish champions.
City's refusal to sell has given him hope he does have a future at City.
"Celtic wanted to sign me permanently but City didn't want to sell me," Roberts explained.
"From that point of view it's good that [Manchester City manager] Pep [Guardiola] and the team there want to keep me involved.
"Letting me come here to carry on my development with the manager and the team is good as well. They'll have full interest in me, which is good.
"Going into training today, [it] doesn't feel like I've been away at all. Just to get back into things again will be good for me.
"It was a long pre-season and it could've been any time I came back. But that's not down to me, I have to keep playing my football wherever I am."
'Manchester City were good to me'
Roberts turned down moves to Southampton and French outfit Nice in favour of a return to Brendan Rodgers' Celtic.
"Manchester City were good to me - we had a few chats and they understood my position," Roberts said.
"Me wanting to come back here was [in my best interests] and, at the end of the day, I'm the one playing the football, so I've got to be the one making the decision. They were really good to me and allowed it to happen.
"I knew that Brendan Rodgers and all the coaches wanted me back and that I'd love to be back. Once the two clubs agreed [a deal] it was more or less go - it was just about when.
"Obviously, a few fans were getting frustrated and I'm just glad it's all sorted and I can kick on for the rest of the season."
The winger is held in high esteem by the Celtic support, having played his part in last season's clean sweep of domestic trophies, and says that was a crucial factor as he weighed up his options.
"I want to show the Celtic fans that have put their faith in me that the love they have for me is not taken for granted," he said.
"I want to show them in every game that I love and will always love playing here.
"The fans are quality, especially on social media. At the games, outside the games it's great. They're a real good bunch.
"I've seen a few tweets about people getting tattoos so I hope they do that as well."
Roberts also believes his team can upset some of European football's biggest names and make their mark in the Champions League this season.
Celtic are in Group B alongside five-time winners Bayern Munich, free-spending Paris Saint-Germain and Belgian side Anderlecht. And, despite the daunting nature of the draw, Roberts is adamant making the knockout stage is the objective.
"You've got to play the best teams in Europe if you want to get as far as you want to be so we'll take that in our stride," he added. "It's a good draw.
"We enjoy playing against those kind of teams. It's a big pressure to come here with the fans, the team we are and the way we play.
"We'll hopefully be a surprise package this year."
'Roberts must play in Champions League'
Roberts started just two of Celtic's Champions League group games last season and scored against parent club City.
And former Celtic midfielder Paul Hartley says the winger should be more involved in this season's competition.
"He's such a terrific player," the former Dundee manager told BBC Radio Scotland's Sportsound. "I wouldn't fancy being a left-back playing against him.
"He's pleasing on the eye. He excites you, scores goals and sets up goals.
"He's adored at Celtic Park. He's enjoying his football. I think the carrot of playing in the Champions League is definitely a key factor.
"The manager's got to take a lot of credit, Brendan Rodgers, because he improves players. He makes them better, you can see that with Callum McGregor, Stuart Armstrong, Scott Sinclair.
"I think Roberts is not the finished article but he's getting there and he's getting better.
"He's a year older, he'll be a year better. He's got to start the Champions League games. He was one of their best players over the last three or four months so I think it's a terrific signing for Celtic."