Celtic need Patrick Roberts to perform on the Champions League stage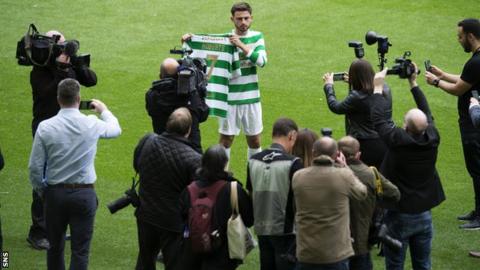 In the wake of official confirmation of Patrick Roberts' return to Celtic Park, it wouldn't have been much of a surprise had a jubilant Peter Lawwell appeared on the stadium roof with a PR7 jersey in one hand and a trumpet in the other to blast out the news of a major signing.
A loan signing for just a season from Manchester City, it's true, but a loan signing that fans of the club have been salivating over for weeks.
It's fair to say that Celtic look on Roberts not just as an extremely exciting footballer, but a terrific brand, a source of goals and assists and victories and, yes, revenue.
Young, handsome, cool and talented, they've taken away the number 27 he wore last season and given him instead the iconic No7 jersey. They're already selling him as PR7, Celtic's own version of CR7, for nine months at any rate.
Fans of other clubs might find the marketing of Roberts, and the comparisons to Cristiano Ronaldo they're inviting, as a little cringe-making. They're upping the ante here, no question. They're portraying Roberts as a young superstar that everybody in their support should want a piece of him. And that costs.
The club won't shift PR7 underpants like the blessed Cristiano, but replica jerseys are a different matter. The yearning among Celtic fans for Roberts' return has been widespread and heartfelt.
They remember his elan towards the end of last season; the class, the bamboozling quality he had on opponents as Celtic honed in on their treble, the impact he had not just on veteran supporters but also the coming generation. Especially the coming generation.
Celtic have their man. Or their boy. He's still only 20. They wanted him on a permanent deal, but at least they're getting him, which is more than you can say about his other suitors.
City took him to America for their summer tour but have opted, given their array of wide players, to let him go for another season. Southampton, Nice and a number of Bundesliga clubs had asked after Roberts in recent weeks but he's opted for Celtic, again.
Roberts will eat up the Scottish Premiership, but Celtic don't need new recruits to do damage in domestic football. They've got more than enough artillery for that already.
The gauge of whether this is a coup or not principally comes in Europe. That's what Roberts is here for. He's got to make as much of an impression on PSG and Bayern Munich as it's possible to make against such vaulted opponents, but it's those two games against Anderlecht where his influence must be seen.
A third-place finish in Champions League Group B - bringing with it Europa League football after Christmas - doesn't rest solely on Roberts' shoulders, but those Anderlecht nights are the ones when Celtic will need him most. If he is what most people think he is - a big player - then that's his stage.
Roberts' impact on the Champions League last season was minimal. He started in the first group game, the 7-0 loss in Barcelona, and started again in the final group game, the 1-1 draw away to Manchester City. He didn't begin any of the four games in between. He got nine minutes at home to City, 17 minutes and 30 minutes in the two matches with Borussia Monchengladbach and 19 minutes against Barca in Glasgow.
For a player with such a stellar reputation, it took him time to get going under manager Brendan Rodgers, with James Forrest keeping him out of the starting line-up. He was a substitute when Celtic beat Rangers 5-1 early in the season, was a sub again when they beat Rangers 2-1 in December and a sub once more when they drew 1-1 with Rangers in March.
From around that point onwards, though, Roberts hit another gear. In truth, he found that gear in December against City at the Etihad when he scored early and played marvellously.
That was the Roberts that brought him to City from Fulham in the first place and it was the Roberts that Rodgers had wanted to see on a more regular basis.
His last dozen, or so, games were outstanding. His speed of foot, his speed of thought, his change of direction, his movement off the ball, his increasing understanding of the pressing game, his goals, his creativity; everything about him screamed quality.
In the Scottish Cup semi-final against Rangers - and in many other games besides - he came in for some treatment from players who couldn't get to grips with him without kicking him.
He overcame that approach, too. By the season's end, he was a frightening sight. Had you asked an opposing defender who would he rather face - a flying Roberts or a lone horseman of the Apocalypse, the opposing defender may have taken a moment before asking what, if any, was the difference.
Celtic fans know their stuff and the arrival of Roberts won't blind them to the work that needs to be done at the heart of their defence if they're going to make a decent fist of Europe, but this was a thrilling moment for them. He's not a Celtic player for keeps, but for a season they'll be more than happy to pretend he is.