World Cup 2018: Scotland have 'no safety net' ahead of Lithuania test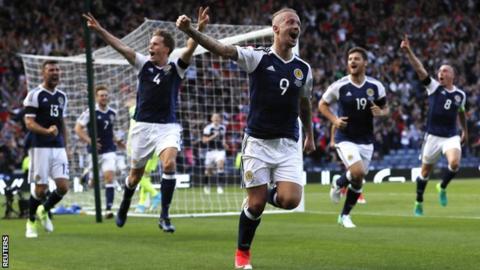 World Cup qualifier: Lithuania v Scotland
Venue: LFF Stadionas, Vilnius Date: Friday, 1 September Kick-off: 19:45 BST
Coverage: Live on BBC Radio Radio Scotland 810MW, plus live text commentary via the BBC Sport website and BBC Sport app
Last October, Scotland made their first, faltering step in World Cup qualification when dropping points at home to Lithuania, a moderate team that had to be put away, but weren't.
It's instructive to look at some of the players Gordon Strachan picked that night at Hampden. Or, put another way, the players he couldn't, or didn't pick.
Scott Brown was still in retirement back then. Stuart Armstrong hadn't yet blossomed as one of the country's finest talents. Kieran Tierney was an unused substitute. Leigh Griffiths, despite scoring 48 goals in his previous 63 games for Celtic in all competitions, was on the bench for 71 of the 90 minutes. Chris Martin was picked ahead of him.
Now, things look a little different. Brown is back and Tierney is an automatic choice. Armstrong may not have hit his terrific form of last season just yet, but he's still, potentially, a major player. Griffiths has just planted two in England's net. A starter, surely, in Vilnius on Friday?
'Far from frightening opponents'
Strachan has six Celtic players in his squad, all of them with Champions League experience. He has seven players who are currently with Premier League clubs in England and had the option of picking another six from the Premier League - all of whom have seen action already this season - but opted not to.
In the list of those who have missed out on this trip you can add Callum McGregor, another of Celtic's Champions League Scots, and Graeme Shinnie, Aberdeen's versatile and in-form midfielder.
Strachan doesn't have world-class stars, and he's still got a weary old problem at centre-half where Messrs Wing and Prayer still reside, but he's got a whole lot more than his equivalent in Lithuania. Edgaras Jankauskas' modest artillery can be legitimately be described as pop-gun compared to Scotland's.
Lithuania are far from frightening opponents. They play in a tiny stadium where about 5,000 fans usually turn up to see them. This is no bear pit that Scotland are entering.
There has been much talk about the artificial pitch at the LFF Stadium, but it's hardly given Lithuania a huge advantage in recent years.
Their home form in their last three qualifying campaigns has seen them win just five of their 13 games. Overall, home and away, they've played 26 matches in qualification for two World Cups and one European championship and have won just seven.
The other day, one of their better players, Vykintas Slivka, now of Hibs, said that it was "no big deal if we don't make it to the World Cup". Imagine a Scottish player saying that.
Slivka's point was that this Lithuania team is young and that their time will come. Young? When they lost 2-1 at home to Slovakia in their last competitive match they had six men over the age of 30 in their starting line-up. The average age of the side was 29. They can hardly be described as a developing force.
It's part of Scotland's footballing DNA to be fretful for games likes this, of course. Even the dogs in the street know how adept they have been in turning a drama into a crisis.
Despondency at not winning
It happened that night at Hampden against Lithuania. Only an 89th minute James McArthur equaliser salvaged a point. Relief at not losing was soon replaced at despondency at not winning. Everybody knows how the qualification story usually ends when points are dropped at home against less than stellar opposition.
As it stands, Scotland sit fourth in their group. The nine group winners advance to the World Cup and the best eight runners-up hit the play-offs. That's 17 slots up for grabs between automatic qualifiers and play-off hopefuls.
Right now, when the numbers are crunched, Strachan's team are effectively in 24th place. An analysis of past qualifying campaigns tells you that to feel confident about making it to the play-offs they need four wins from their next four games. Three wins and a draw might be good enough, but the emphasis is on the 'might'.
Put bluntly, if Scotland, with their deeper squad and better players who are operating at a higher level, can't engineer a win in Vilnius then the only thing left to do at that point would be to start the process of finding a new manager.
Strachan still thinks Scotland can make the play-offs. He said that even when his team toiled in the 1-1 against Lithuania and then lost 3-0 against England and 3-0 against Slovakia. It didn't make sense then, but results in the last two games at least offer a modicum of hope.
A late, late victory over Slovenia and the dramatic draw snatched from the jaws of victory against England showed, by turns, Scotland's heart, class and vulnerability. They need self-belief not weakness now.
Saying that they should have enough to beat Lithuania is one thing - we've said similar things a dozen times before. Actually being good enough to beat Lithuania is quite another.
No safety net and no excuse. Not this time.