Aaron Jarvis: Luton's new signing switches bagging area for the penalty area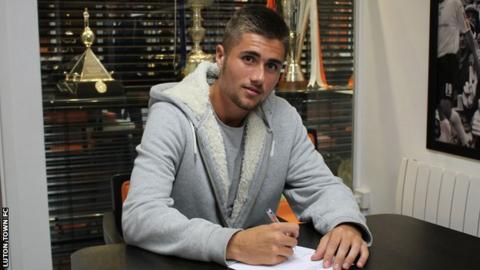 If you are 19-years-old and work in a supermarket, imagine phoning your boss and telling them you are becoming a professional footballer.
On Thursday's transfer deadline day, while billions of pounds were being thrown around, Aaron Jarvis did that just that.
Instead of stacking shelves, or listening to the incessant beep of the checkout, he was busy completing a move from non-League Basingstoke Town - in football's seventh tier - to League Two Luton.
But it wasn't a smooth journey as the striker ended up getting caught up in rush-hour traffic.
"I found out about it at 4pm today," he told Luton's website after signing.
"Then the final news came at 5pm and quickly I tried to make my way up here but got stuck on the M25 in traffic, so I arrived quite late tonight but I'm glad the deal's done now.
"I was meant to have my work shift at Tesco tonight - but it was worth the cancel. I've not handed my notice in yet, but I will do soon!"
Just goes to show, if you need a leg up the football ladder - every little helps.