Celtic loan signing Odsonne Edouard eyes goals against parent club PSG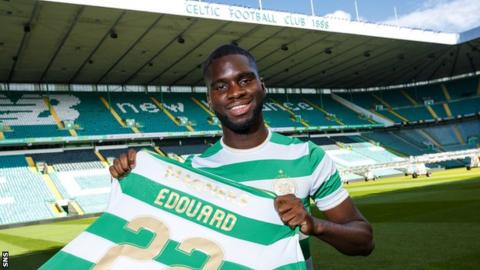 Celtic loan signing Odsonne Edouard insists he will have no qualms about scoring against parent club Paris Saint Germain in Champions League Group B.
"I am a football player - I am here to score goals," said the 19-year-old striker when asked if there would be a dilemma facing the French club.
"Of course, playing against PSG is something special for me. It's my parent club."
The France Under-19 striker aims to win a regular starting place with Celtic.
Edouard, who has joined the Glasgow club for the rest of the season, faces competition from Scotland striker Leigh Griffiths and last season's top scorer, Moussa Dembele, although the France Under-21 international is presently sidelined through injury.
"I know I will have to learn first and will have to develop and work hard at it, but as a competitor, I obviously want to play," said the French Guiana-born player.
"So my objective is to play every match. This is the driving force."
PSG paid £200m for Brazil international Neymar and added fellow forward Kylian Mbappe on loan from Monaco this summer before Edouard headed to Celtic in search of regular first-team football.
"I did something very similar last year when I went to Toulouse to make sure I was playing regularly," he said.
"What PSG have done this summer is very good for the club. Obviously, in terms of their objectives, it is fantastic.
"But, from my point of view, I am a young player and, for me, the key is to play."
Celtic also signed France Under-21 midfielder Olivier Ntcham from Manchester City this summer and Edouard thinks having two players from his homeland at the Glasgow club will help him settle in.
"Moussa and Olivier are among the best players in France in this generation, so I can only benefit from playing with them," he said.
"On a personal level, I don't know them that well, but I know Moussa through PSG as he went through more or less the same route I did."
Celtic have an option to buy Edouard at the end of his loan spell next summer, but the player himself is concentrating on his short-term future.
"The most important thing for me is to start training, to hopefully start playing as soon as possible and we'll see what happens," he said.
"I'm really happy to be here at Celtic, I'm really excited and I'm looking forward to starting.
"I am really looking forward, first and foremost, to playing in the Champions League. It is a big thing for me.
"As far as objectives are concerned, my main goal is to win the league with Celtic."
Edouard said he was attracted to the Scottish champions because of the "renowned" atmosphere at Celtic Park and manager Brendan Rodgers.
"I have known about Brendan for a while through his position with Liverpool in the Premier League," he said.
"As soon as I discovered he was interested in me as a player and I spoke to him, I had no hesitation in signing for the club. He was influential.
"He said he liked my profile as a player and I know he really likes working with young players to develop them and that was key in me signing for Celtic.
"When you look at the team, there are a lot of young players in this team and that is proof of what he does and what he does well."