Court of Arbitration in Sport orders Jersey case to be heard by Uefa congress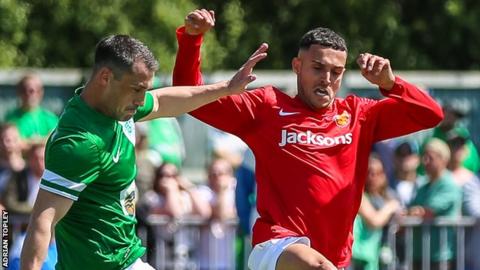 The Court of Arbitration for Sport (CAS) has reinstated Jersey's attempt to become a member nation of Uefa.
Uefa's executive rejected the Jersey FA application last year on the grounds that the island is not recognised as an independent state.
But Jersey appealed to the CAS, which has now ruled that the application must be heard by the full Uefa congress.
However, the court added that its panel did not believe the application met Uefa's membership criteria.
The JFA first submitted an application in December 2015 after Gibraltar and Kosovo were admitted to European football's governing body.
But Gibraltar's initial application in 2007 came before the rules were changed, while Kosovo, who joined Uefa in May and played in their first World Cup qualifier in September, declared independence from Serbia in 2008.
A CAS statement said its three-man arbitration panel had "set aside the Uefa EC Decision and ordered that JFA's application be forwarded to the Uefa congress for consideration".
However, the panel dismissed a request from Jersey to "take all necessary measures to admit the JFA as a full member of Uefa without delay".
The statement concluded that it could not be approved because the panel believed that although the Uefa congress has discretionary powers over membership, "on the basis of the evidence provided, JFA does not fulfil the requirements of Article 5(1) of the Uefa statutes to be admitted as a member".
Article 5(1) states: Membership of Uefa is open to national football associations situated in the continent of Europe, based in a country which is recognised by the United Nations as an independent state, and which are responsible for the organisation and implementation of football-related matters in the territory of their country.
Gibraltar is the smallest Uefa member in terms of population, behind San Marino (just over 33,000), Liechtenstein (approximately 37,000) and the Faroe Islands (just under 50,000).
Jersey has a population of about 100,000 and is self-governing, but is a crown dependency of Great Britain, with the Queen as head of state, and classed as a county by the English FA.
Should the JFA's hearing by the Uefa congress be successful, the island's domestic league champions and runners-up would enter qualification for European club competitions, with men's and women's teams at senior and youth level eligible to compete in their respective European Championships.
Other 'non-nations' playing international football
Gibraltar - a British Overseas Territory
Faroe Islands - a self-governing country within Denmark
Bermuda - a British Overseas Territory
Puerto Rico - a self-governing Commonwealth in association with the US
Anguilla - a British Overseas Territory
Aruba - an autonomous country within the Kingdom of the Netherlands
Montserrat - a British Overseas Territory
New Caledonia - a French overseas territory
Jersey's Uefa bid - a timeline