England v Slovakia: 'Gareth Southgate's side pull through, but flaws persist'

By Phil McNulty
Chief football writer
Last updated on .From the section England600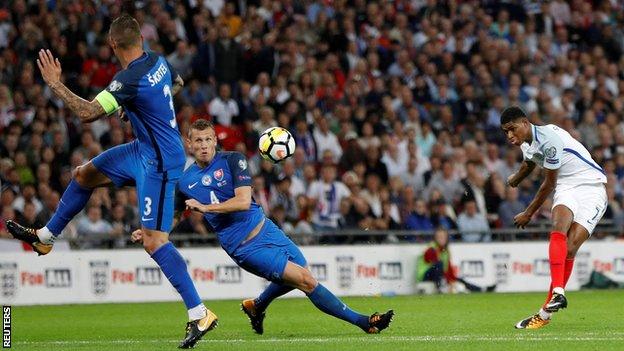 England's 2-1 win over Slovakia at Wembley came exactly a year to the day since the same opponents were beaten in Sam Allardyce's one game in charge of the national team.
Allardyce - soon to be gone after only 67 days as manager - spoke about a lucky coin he had been given by a fan before the game as he basked in the afterglow of his lone night of triumph.
Fast forward 12 months and England, now under Gareth Southgate, need only victory against Slovenia at Wembley on 5 October to confirm a place at next summer's World Cup in Russia.
On this evidence, however, they will need more than a lucky coin to inspire them to any serious impact against the world game's superpowers.
So have England progressed since Allardyce's brief interlude in Trnava? And what major issues does Southgate have to resolve once qualification is assured, as now looks certain?
Have England made real progress?
In the context of World Cup qualification, the answer is 'certainly' - though there were anxious moments when Slovakia were ahead and England's fate was out of their own hands as they trailed for 34 minutes.
Their recovery means one more win will take them to Russia and for all their faults, and there are plenty, it is hard to see how they can fashion defeat from certain victory.
Southgate fielded six members of Allardyce's starting line-up in Slovakia - victory then came courtesy of Adam Lallana's 95th-minute winner - but there is still little to excite or suggest huge strides are being made.
Marcus Rashford lifted England out of a morass of mediocrity. The impression lingers that this is a team that pulls through against limited opposition but has very obvious flaws that threaten to be exposed once they face elite opposition.
Progress through the group has been reasonably efficient but thoroughly unspectacular. For all that some of England's players flourish at club level, this is a colourless and largely joyless team.
England's motto could be "job done" - but it is not one that will carry them through if and when they reach the sharp end of the action in Russia.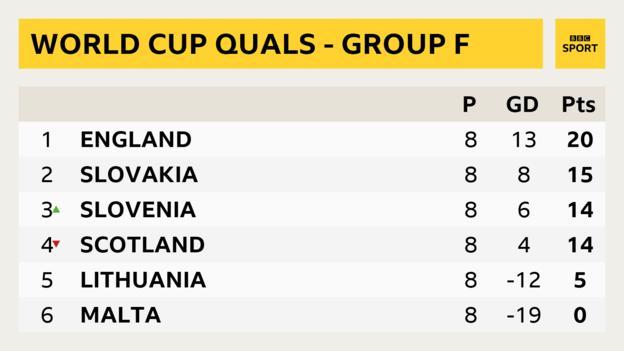 Southgate's England lack sparkle, although Rashford hinted at an X-factor with his outstanding display, and this was another night of toil in the manner of the win against Malta, when the 4-0 scoreline embroidered a poor display via three goals in the last six minutes against exhausted minnows.
England have time to take more steps in the right direction over the coming months, but increasingly it appears what you see is what you will get with this squad in Russia.
It may seem a harsh verdict on the point of yet another qualification, but history has taught tough lessons about this England team. There is no difficulty in qualifying but facing top-class opposition, or not in the case of Iceland at Euro 2016, rarely ends well in a tournament environment.
Southgate must find a way of compensating for an absence of world-class players in his squad, a tough task for any manager let alone a comparative rookie at this rarefied level.
His side will now surely reach Russia - but it is delving into the realms of fantasy to suggest those such as Germany and Spain, among others, would spend too long worrying about their potential threat.
What are the questions for Southgate?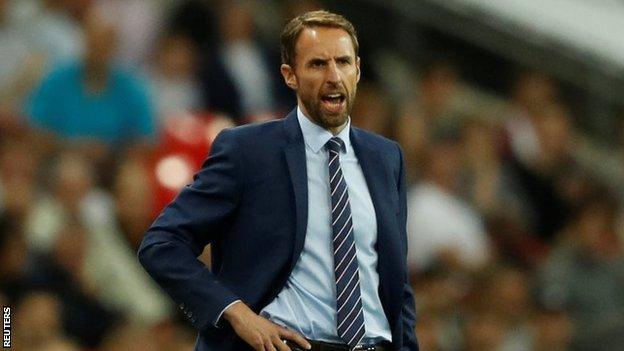 Southgate will have to wrestle with several contentious issues, in many crucial areas of his side, before next summer.
One of the biggest will be his choice of goalkeeper. Will his very public faith in Joe Hart be tested further in the coming months?
Southgate surprised many - me included - when he persisted with Hart in Malta, given the goalkeeper's decline in recent seasons, which led to Pep Guardiola unceremoniously bundling him out of Manchester City and justified criticism of his performances at Euro 2016 as well in the 2-2 draw in Scotland in June.
Hart was not solely to blame for Stanislav Lobotka's goal for Slovakia, but his unconvincing attempt to save raised eyebrows once more.
The pressure comes from the fact Stoke City's Jack Butland and Jordan Pickford at Everton currently look far superior. Can Southgate really keep them on the sidelines much longer?
And what of England's central-defensive partnership?
Manchester City's John Stones has disappeared, almost unnoticed, from contention for a starting place as Southgate plumps for Chelsea's Gary Cahill and Manchester United's Phil Jones.
Stones, still only 23, was once regarded as the future of England's defence, supposedly the identikit modern centre-half who could defend and bring the ball out as the top level demands.
It is only right to state that Jones played well against Slovakia, solid and making several important interceptions, but there are serious questions as to how he and Cahill (who has suffered before at tournaments) will cope when faced with the best.
Stones may yet hold the key but faces a vital season at Manchester City. If he can show signs of becoming the defender most sound judges, including Guardiola obviously, thought he would become, he may yet solve a problem for Southgate.
England's central midfield of Jordan Henderson and Eric Dier is workmanlike but lacking inspiration at international level, while there remains inconsistency in the wide positions from the likes of Raheem Sterling and Alex Oxlade-Chamberlain, who have delivered varying degrees of disappointment in the latest qualifiers.
Southgate must also settle on his captain, having given what amounted to trials to Henderson and striker Harry Kane.
The captaincy is given far more significance in England than elsewhere but the squad still needs a leader, even in armband only, and Southgate must now make a decision.
With the possible return of Tottenham left-back Danny Rose, no certainty given Ryan Bertrand's performances, a change of goalkeeper and perhaps alterations in the wide positions, the team against Slovakia may bear a very close resemblance to a starting line-up in Russia.
And on this evidence, it is clear Southgate and his players still have much work to do.
But what about the positives?
The one obvious positive is England once again look to have negotiated a qualifying group relatively untroubled - albeit without raising the pulse rate.
And while there are clear shortcomings, no-one can doubt their character and fighting spirit. England's players clearly care and are up for the fight.
They had to dig deep at Wembley after a hugely impressive opening 25 minutes from Slovakia saw them in a fully deserved lead. Southgate's side were not at their best but stayed in the game, profited from Rashford's inspiration and took the chances that gave them the win.
And in the performance of 19-year-old Rashford, England were offered a shaft of light pointing towards the future. He showed a fearlessness and ability to shrug off his mistake for Slovakia's goal that spoke volumes for his character.
England also have a reliable international striker in Kane. He was out of luck on Monday but his attitude is exemplary and he will be keen to make amends for his poor Euro 2016, when he looked exhausted by the exertions of constant football.
Dele Alli may be another who makes the great leap forward but questions remain over his hair-trigger temperament, which will be well known by England's potential opponents before and during the World Cup.
What was his middle-finger gesture all about? If he was communicating with Kyle Walker, it is a very strange way of going about it.
England's cause may also be helped by exciting talent from their burgeoning younger ranks.
There is invariably a 'bolter' who comes from nowhere to make a late break for tournament contention. Southgate will hope for more than one.
England deserve credit for putting themselves in what appears an unassailable qualifying position once more - and displays like that offered by Rashford against Slovakia at least offer hope as the countdown to Russia begins.
It is something to be going on with.