Tom Clarke: Preston North End captain surprises well-wishing young fan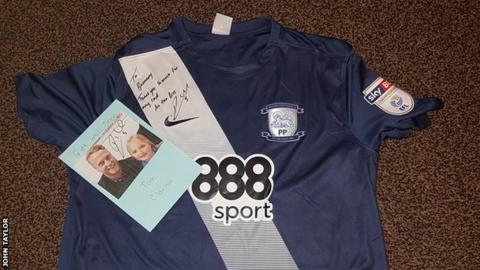 When football players face months on the sidelines through injury, it can be a sobering experience as they work hard to get back on the pitch.
But it is not just the players who are deeply affected by a long absence. When Preston North End captain Tom Clarke suffered an Achilles injury in their defeat by Huddersfield Town in April, one young fan was distraught.
Speaking to BBC Sport, John Taylor says his six-year-old daughter Bethany wanted to let her hero know she was thinking of him.
"She's besotted by him. She was absolutely mortified about the injury and was in tears," he said.
"She said she wanted to write him a get well card and we handed it into the club. We didn't expect to get anything back, it was just a nice little gesture.
"On Monday evening, the club's kit man Stephen Cowell knocked on our door and presented us with some stuff from Tom himself."
That 'stuff' was a signed match-worn shirt and photo as well as the card that Bethany had sent, kindly signed by Clarke.
Taylor continued: "She started school on Tuesday and we were going to wake her but we thought she could see it in the morning, which would be a nice surprise for her.
"Her little face when she saw the stuff was a picture."
'You can't get much better'
Clarke, 29, still faces a lengthy spell out of the game. Greg Cunningham is currently standing in as the club's captain as he is ruled out until the end of the year at the earliest.
But Taylor is over the moon that Clarke has gone the extra mile to put a smile on Bethany's face while in recovery.
"I can't thank him enough. He's made a very little girl happy," he added.
"Tom is a good example of a footballer. You can't get much better. Every time I've seen him, he's been interacting with the supporters, he does lots of things with the community and he's an honest bloke.
"I think it's a pleasure for North End to have him as a captain."