Women's Super League 'needs a fully professional top tier', says Rachel Brown-Finnis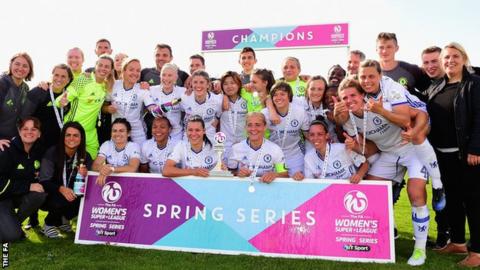 A fully professional top flight is needed for the development of the Women's Super League, believes former England goalkeeper Rachel Brown-Finnis.
BBC Sport has learned the WSL may turn in to a one-tier league strictly for clubs that can sustain full-time players from 2018-19 onwards under new Football Association proposals.
Consultations between the FA and the 20 WSL clubs over the plans are under way.
"It is a move in the right direction, partly," Brown-Finnis told BBC Sport.
"To make the league as competitive as we want, for the best product on television, to get the best out of the players and attract players from abroad, it needs to be a fully professional league.
"So I'm in favour of it for those reasons. We are already seeing an almost two- or three-tier WSL 1, with the top teams breaking away challenging for the title, then a middle group and then the teams that are still part-time who are being touted to scrap for survival."
The new plans, which may see WSL 2 - a part-time league - rebranded as a separate entity, would form part of the licence criteria for next season, if approved.
BBC Sport understands one aim of the proposals is to provide a clear distinction between the professional and semi-professional tiers, but some currently part-time clubs are uneasy about the prospect of their 2018-19 league status being determined by off-field criteria rather than league results.
Will there be a 'regional spread' of academies?
The plans could see top-tier clubs required to run a youth academy and contribute a minimum level of investment each season.
"I just hope the FA considers a regional spread of those academies and those WSL 1 clubs," Brown-Finnis added.
"There probably has to be some sort of compromising and subsidising to ensure we have that regional spread, because we don't want girls living in a certain part of the country to not get the opportunity to make the most of their talents.
"I know the FA, when they set up the WSL, wanted to ensure it was stable and wouldn't plummet or die all of a sudden, because we've seen that happen in other countries when funding is pulled out by a major sponsor.
"Now the clubs who have made their commitment, to make all their team professional players, are seeing the rewards from that. Chelsea, Manchester City and Liverpool have all won the league."
Man City replacing Belles 'has been justified'
When the WSL - which began in 2011 and is run by the FA - was expanded to include a second tier in 2014, Doncaster Rovers Belles were controversially replaced by newcomers Manchester City, because the Belles did not retain a top-tier licence upon reapplication.
"I think the FA have almost been justified now, in their decision to bring through Manchester City," Brown-Finnis said. "Nobody can really say that doing that for Manchester City hasn't been for the benefit of women's football in this country.
"Yes, it was pretty harsh in some ways, because it was at the expense of Doncaster Rovers Belles. But the FA saw what Manchester City were proposing and saw their long-term commitment to the game.
"They are now one of the most watchable teams and one of the best-followed teams in the league, if not the best, and have been flying the flag along with Chelsea in Europe.
"It is unfortunate that is was at the expense of another team, and I'd like to think the FA have learnt from that, in that it wouldn't necessarily have to be at the expense of another team."
Full-time costs 'will kill women's football'
Some English women's clubs have struggled financially in recent years and, in April, top-flight outfit Notts County Ladies folded on the eve of the 2017 Spring Series.
A Notts statement at the time said chairman and owner Alan Hardy had "reluctantly admitted defeat in his bid to save the club after facing a near-£1m bill to keep the club afloat this season".
Since the demise of the women's senior football club, Hardy and Notts have set up an independent girls' academy to nurture young talent.
When asked about the idea of the English top tier going fully professional, Hardy told BBC Sport the costs of running full-time clubs will "kill the women's game".
The Nottinghamshire businessman added: "I said at the time [of Notts folding] that there has to be fundamental change to women's football.
"Contrary to what people think, I love women's football."
Women's game 'on cusp of something special'
The FA invested more money into the women's game than any other European governing body last year, and Brown-Finnis believes it has never been stronger.
"Women's football is in such a wonderful place at this time, domestically and internationally," she added.
"It is in the best place ever with regards to England's world ranking and the potential successes at a major international tournament.
"We're on the cusp of something special in this country; across women's sport we're in the most exciting place this country has ever been in."
The 2017-18 winter WSL season - the first since a transition from the previous summer calendar - begins on 22 September.