Hurricane Irma: Jess Fishlock returns to Wales after leaving Florida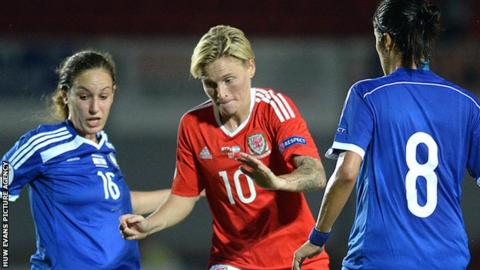 Midfielder Jess Fishlock has returned to Wales after posting that she hoped to escape the approaching Hurricane Irma and join the Wales squad.
Fishlock, 30, headed the equaliser for Seattle Reign against Orlando Pride on Thursday, a game brought forward because of the deadly storm.
But she believed the game should have been postponed for players to leave before the storm prevents travel.
"To us and our loved ones, it's not worth that risk," said Fishlock.
"But I do understand that there was no risk to the game and we know that - it was never a football matter.
"Our matter was the safety of us getting out and some of our girls are renting cars and driving six hours just to make sure they can get out.
"And I just don't think it was necessary to put a team - both teams - in that situation with the stress and anxiety of the hurricane and no-one knows really what it's doing."
Fishlock posted on social media on Saturday and confirmed she was in Cardiff visiting a sports bar owned by footballer Gareth Bale.
Sorry, this content is no longer available.
Sorry, this content is no longer available.
Hurricane Irma has caused widespread destruction across the Caribbean, reducing buildings to rubble and leaving at least 14 people dead.
Projections suggest it could hit the state of Florida on Sunday.
Sorry, this content is no longer available.
Sorry, this content is no longer available.
On Thursday, Fishlock was named in the Wales squad for their opening 2019 World Cup qualifier in Kazakhstan on 17 September.
The midfielder, who won a record 100th cap in April, sat out Wales' two friendly games against the Netherlands in July because of injury.
She also did not feature in Wales' squad for two friendlies against Portugal earlier in June.
Wales also face Bosnia-Herzegovina, England and Russia in Group 1.
Wales squad: Claire Skinner (Oxford United WFC) Laura O'Sullivan (Yeovil Town Ladies), Loren Dykes (Bristol City WFC), Hannah Miles (Yeovil Town Ladies), Hayley Ladd (unattached), Sophie Ingle (Liverpool Ladies), Gemma Evans (Yeovil Town Ladies), Chloe Chivers (Cardiff City Ladies), Angharad James (Everton Ladies), Chloe Lloyd (Yeovil Town Ladies), Emma Beynon (Swansea City Ladies), Grace Thomas (unattached), Georgia Evans (Bristol City), Nadia Lawrence (Yeovil Town Ladies), Jess Fishlock (Seattle Reign), Natasha Harding (Liverpool Ladies), Kayleigh Green (Yeovil Town Ladies), Rhiannon Roberts (Doncaster Rovers Belles).