Athlone Town pair banned for 12 months over match-fixing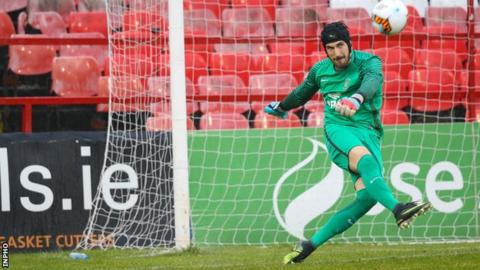 The Football Association of Ireland has banned two Athlone Town players for 12 months over match-fixing.
Igors Labuts and Dragos Sfrijan were found to have manipulated the result of the Irish club's 3-1 First Division defeat by Longford Town on 29 April.
The FAI launched an investigation after Uefa was informed of suspicious betting patterns during the game.
Athlone and the Professional Footballers' Association of Ireland said both will appeal against the bans.
FAI decisions 'outrageous' - Athlone
The League of Ireland First Division club said they were extremely unhappy with the "outrageous findings" made by the FAI against Latvian-born goalkeeper Labuts and Romanian Sfrijan.
"At this stage the club supports the players' appeal against the findings and any avenues taken by the two, who strongly deny the charges, aimed at overturning these decisions," said an Athlone Town statement.
"It is our opinion that the evidence presented against the players was exceptionally flimsy, and based on opinion only."
A statement from the PFAI said the appeals will be taken "as far as the Court of Arbitration for Sport if necessary".
Full investigation conducted, says FAI
The FAI said that it had launched its investigation after a Uefa betting fraud detection system report demonstrated "clear and overwhelming betting evidence that the course of the 29 April game was unduly influenced with a view to gaining corrupt betting profits".
Two other games involving the club were also investigated but the FAI decided that there was insufficient evidence to bring further charges.
An FAI statement said it had conducted "a full investigation" which included interviews with the two players plus a review of the match footage by football experts.
The FAI statement added that it considered the pair's own account of their financial arrangements with Athlone Town to be "unconvincing and insufficient".
However, in response the PFAI said that "no evidence exists that these players were guilty of any such offence".
The PFAI said that the FAI panel's decision made "no reference to the substantial expert evidence which contradicts the finding".
The PFAI added that while the damage done to the players is "irreversible, they will fight to reclaim what is left of their good names".