Man Utd backed for Premier League title win by BBC Sport readers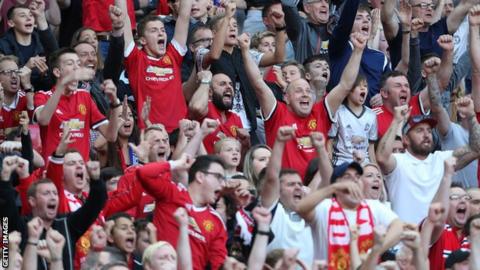 Manchester United have been backed to win the Premier League title by a sizeable majority of BBC Sport users.
More than 56,000 people predicted their final table using our selector, with 60% expecting Jose Mourinho to continue his record of winning the league in his second season at a new club.
Arsenal have been tipped for their lowest finish under Arsene Wenger.
At the bottom, Huddersfield, Crystal Palace and Brighton made up the relegation places.
Your final league table
Predicted 2017-18 table by BBC Sport readers
Club
Position
Manchester United
1
Manchester City
2
Chelsea
3
Liverpool
4
Tottenham Hotspur
5
Arsenal
6
Everton
7
Leicester City
8
Southampton
9
West Bromwich Albion
10
Stoke City
11
Watford
12
Bournemouth
13
Burnley
14
Swansea
15
West Ham
16
Newcastle United
17
Huddersfield Town
18
Crystal Palace
19
Brighton & Hove Albion
20
The title race and the Champions League
Manchester United are the only Premier League team with a 100% record so far this season and their excellent start - along with the summer signings of Romelu Lukaku, Nemanja Matic and Victor Lindelof - was enough to ensure they emerged as clear favourites.
Manchester City were backed to be their closest challengers, while only 8.6% of you thought Chelsea would retain the title they won so convincingly last season.
The Stamford Bridge club did make the top four though, with their third-placed finish behind the two Manchester clubs enough for Champions League qualification, along with fourth-placed Liverpool.
But while London clubs dominated the top flight in 2016-17 - Tottenham finished second behind Chelsea - you do not expect them to perform so well this time around.
Spurs, runners-up last season, were tipped to lose out in the battle for the top four.
And Arsenal, who missed out on Champions League qualification last season with a fifth-placed finish - their lowest since Wenger's appointment in 1996 - came sixth in our predicted league table.
In fact, only 1.3% of users thought the Gunners would win a first title since 2004.
The battle to avoid the drop
Promoted Huddersfield are unbeaten after three matches and are third in the real-life table.
But you still anticipate a struggle for the Terriers - they are predicted to finish 18th.
It is Brighton, though, who you are most convinced will return to the Championship, with 55.4% of participants saying they will finish 20th.
That was the second-highest proportion for any single placing - behind Manchester United as title winners.
Crystal Palace, one of three sides yet to earn a point this season, are tipped to finish 19th after a worrying start and uncertainty about the future of manager Frank de Boer.
So will you be right?
Let's take a look at how you got on last season.
An overwhelming majority (78%) picked Manchester City as champions in 2016-17, a figure that was perhaps a reflection of their scintillating start to that campaign - they had won all five league games at the time we asked for your predictions.
Ultimately, though, that proved wide of the mark, with Chelsea (your tip for second) clinching the title with relative ease.
Three of your final top four were right, with Tottenham taking Arsenal's place in the real-life table at the end of 2016-17.
At the bottom, you got two out of three right, with Sunderland and Hull both correctly tipped for the drop.
But Burnley - your pick for 20th - ended up six points clear of the relegation zone in the relative safety of 16th.
Predicted 2016-17 table by BBC Sport readers
Club
Position
Manchester City
1
Chelsea
2
Arsenal
3
Liverpool
4
Manchester United
5
Tottenham Hotspur
6
Everton
7
Leicester City
8
Southampton
9
West Ham
10
Crystal Palace
11
Watford
12
West Bromwich Albion
13
Swansea
14
Stoke City
15
Middlesbrough
16
Bournemouth
17
Hull City
18
Sunderland
19
Burnley
20
If you disagree with your fellow readers, you can pick you own final-day table below.
Pick your final Premier League table
How will the Premier League table look at the end of the season? Will Chelsea defend their title? Can the promoted sides avoid relegation? Pick how you think it will look in May, placing all 20 teams in order. Have a go then share with your friends.
Take part in our Premier League Predictor game, which allows you to create leagues with friends.