Bolton Wanderers: Ken Anderson not expecting points deduction after shareholder liquidated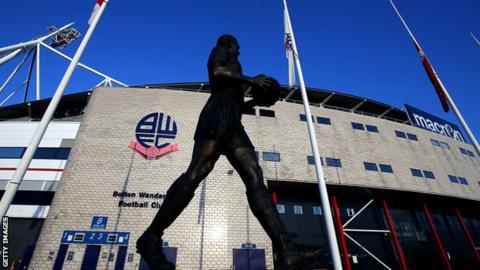 Chairman Ken Anderson is confident Bolton Wanderers will avoid a points deduction following the liquidation of Sports Shield BWFC in August.
Sports Shield held 37.5% of shares in the Championship club, since acquired by Anderson's Inner Circle Investments, meaning ICI now has a 95% shareholding.
Clubs that go administration are docked 10 points, and Bolton's case is under review by the English Football League.
Anderson said it is his "understanding" a points deduction "will not happen".
Bolton's majority shareholder also said they are in discussions with the EFL about trying to lift the transfer embargo on the club.
"The situation regarding Sports Shield BWFC and BluMarble had dragged on for far longer than anybody could have envisaged, but I am very pleased that a conclusion has now been reached," Anderson said in a statement on the club's website.
"These distractions and the ensuing uncertainty over the past few months have been far from ideal but I am delighted to say that our focus can now be firmly fixed on football matters and getting behind (manager) Phil Parkinson, his staff and the players.
"Now that the BluMarble and the shareholding issues have been resolved, I am now in a position to take this club forward and we can look towards a brighter future together."
Bolton are bottom of the Championship table, having failed to win any of their opening five league matches since winning promotion back to England's second tier.