Miguel Maduro: Expert dismissed by Fifa to give evidence to MPs at hearing
Last updated on .From the section Football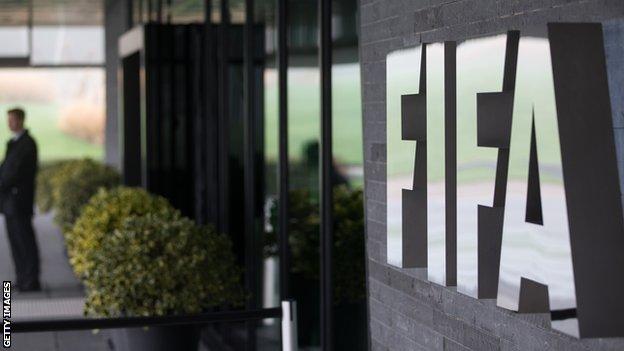 A corporate governance expert dismissed by Fifa earlier this year will speak about his time at football's world governing body when he appears before a committee of MPs.
Miguel Maduro, a Portuguese statesman, was hired to boost Fifa's image following several corruption scandals.
He left unexpectedly less than a year later, in May, along with the heads of its ethics investigatory and adjudication bodies.
The hearing is scheduled for Wednesday.
Maduro had originally been due to give evidence on Tuesday, but the hearing was rearranged after his flight was cancelled.
Fifa president Gianni Infantino praised Maduro's appointment in 2016, pointing to his reputation as a sign the organisation he leads was serious about reform.
Maduro's departure has been reported as being linked to his role in blocking Russian World Cup official Vitaly Mutko from keeping his seat on Fifa's ruling council.
Mutko was barred because his role as Russia's deputy prime minister was deemed to be in conflict with Fifa's regulations on political neutrality.
Maduro, a leading European politician, is set to give evidence and answer questions at the Culture, Media and Sport select committee, chaired by Damian Collins MP, on 12 September at the House of Commons.
The session will form part of the committee's ongoing inquiry into sports governance. A final report is due to be published later in the autumn
Analysis
BBC Radio 5 live sports news correspondent Richard Conway
Miguel Maduro is not a household name but his evidence should provide a fascinating insight into life within Fifa under president Gianni Infantino.
Brought in with much acclaim as a potent symbol of Fifa's serious intent to reform he was unceremoniously dismissed before Fifa's annual congress in May.
Many attributed his demise to his role in blocking Russian World Cup chief and deputy prime minister Vitaly Mutko from trying to join Fifa's ruling council.
Maduro has said little since but looks set to reveal all about his time working for football's governing body - and his untimely departure in May - in great detail.
It could well prove an uncomfortable occasion for Fifa executives watching on from their Zurich HQ.