Cardiff City: Neil Warnock satisfied with battling point at Fulham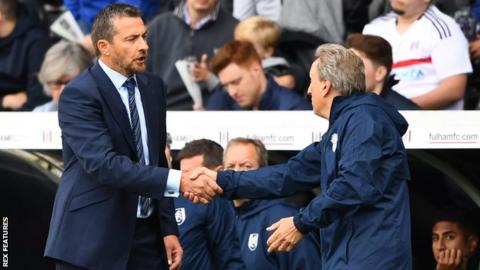 Cardiff City boss Neil Warnock declared himself satisfied with a point at Fulham as the Bluebirds remained top of the Championship.
After five wins, the Bluebirds looked to be heading to their first Championship defeat when Ryan Sessegnon put the home side ahead, but Danny Ward came on to level for the visitors.
Warnock praised his substitutes.
"The difference this season is that all the money we have spent is on the bench so we can improve things," he said.
He added: "We were disappointed to concede as I felt we could go on to win it at 0-0. The substitutes all made a difference for us.
"It was a cracking game. Every point is precious for us. It's a difficult place Fulham.
"I was actually hoping that they went up so we did not have to play them twice. They've got some good players and I like the manager too, He's a straight-talker."
'It's a happy place at the moment'
Cardiff's 100% start to the campaign may be over, but they remain unbeaten and Warnock outlined the importance of getting the season off to a good start.
"A good start takes the pressure off you as a manager," Warnock told BBC Wales Sport.
"It's so important. It takes pressure off everyone, off you, the fans, the players, everyone relaxes a bit more. You can play your game.
"We're disappointed we did not make it six (wins), but coming here and getting a point, in the circumstances I thought it was well deserved.
"People say a Neil Warnock side is going to be physical, but I think we play a lot more football than people give us credit for.
"We've got a gem of a squad, there's not one big time Charlie, we've got a lot of ability too and it's a happy place at the moment."