Steve Kaplan and Jason Levien: How have American owners changed Swansea City?
By Dafydd Pritchard
BBC Sport Wales
Last updated on .From the section Football26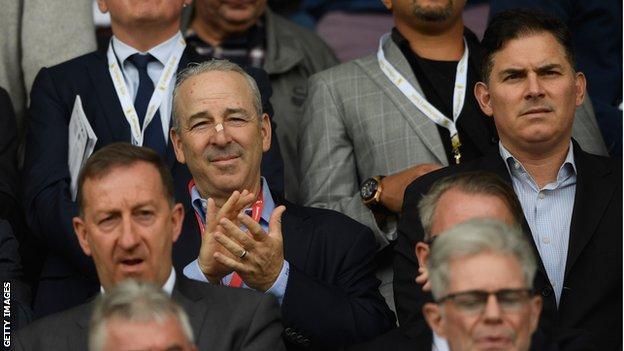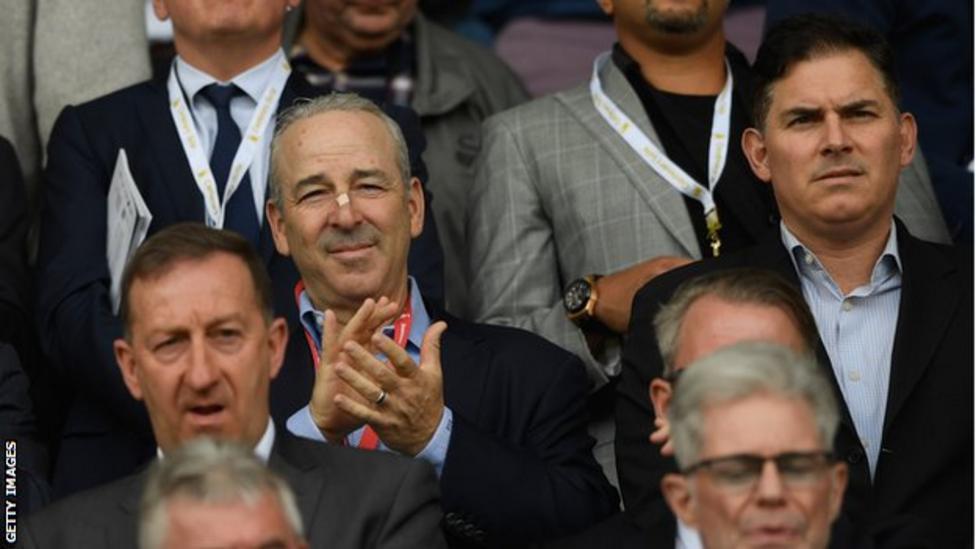 It is more than a year since Swansea City's American takeover, and the jury remains out on the effect it has had on the club.
After buying a controlling 68% stake in the club in July 2016, businessmen Steve Kaplan and Jason Levien endured a turbulent first season which almost ended in relegation for the Swans.
The Americans and existing directors from whom they bought their shares had faced criticism from fans and particularly Swansea City Supporters' Trust.
The Trust owns a stake of more than 21% in the club and its members were aggrieved not to have been fully consulted during the takeover.
Those tensions have since eased with Kaplan and Levien admitting to making mistakes and, with the third manager of their tenure, Paul Clement, now in his first full term in charge, there is a degree of optimism at the Liberty Stadium.
Swansea chairman Huw Jenkins believes the club is in its strongest financial position since earning promotion to the Premier League in 2011, but his positive view on the Americans' influence is not universal.
Some pundits believe there has been a lack of investment, while some supporters have questioned Kaplan and Levien's motives, so how has the American takeover changed Swansea?
Where is the investment?
Whenever a club is taken over, the first question from fans tends to be about how the new owners might affect transfer spending.
Jenkins said the arrival of Levien and Kaplan would accelerate Swansea's transfer activity, though the Americans themselves were coy about the amount of money they would make available for strengthening the squad.
After spending more than £100m to acquire their 68% stake in the club, further investment from Levien and Kaplan could have had implications for Swansea's share prices and Financial Fair Play (FFP) standing.
Instead, they focused on expanding the Swans' scouting network and appointed data analyst Dan Altman, while they brought in chief operating officer Chris Pearlman to overhaul the club's marketing and commercial departments.
Levien and Kaplan want to make the club self-sufficient, able to generate its own revenue streams to spend on the squad accordingly.
However, several pundits and supporters were underwhelmed by the latest transfer window.
Gylfi Sigurdsson, Swansea's player of the year for the past two seasons, joined Everton for £45m and Fernando Llorente, last term's top scorer, moved to Tottenham for £14m, while Jack Cork, Bafetimbi Gomis and Modou Barrow departed for a little over a combined £10m.
In their place came midfielders Sam Clucas and Roque Mesa for £15m and £11m, striker Wilfried Bony for £12m and two loan signings in the form of Chelsea striker Tammy Abraham and Bayern Munich midfielder Renato Sanches, both of whom joined for substantial loan fees.
A net profit of about £20m enhanced Swansea's financial reserves, but left some disappointed.
"It doesn't seem like the Americans are putting in any of their own money to take the club forward," former Swans and Wales striker Ian Walsh told BBC Sport Wales.
"They're prepared to invest to keep things on a status quo, but not investing to take the club forward on the field.
"But it is difficult. Lots goes on off the field that us as punters and the fans and the media don't know about.
"But it just seems to me that they're just looking after what's here, the Americans, and not really putting in any of their own money."
'Swansea's best financial position'
Walsh's scepticism strikes a different tone to that at the club.
Jenkins has been Swansea's chairman since 2002, investing his own money to help steer the club from the lowest reaches of the Football League and the brink of financial ruin to the glamour and excessive wealth of the Premier League.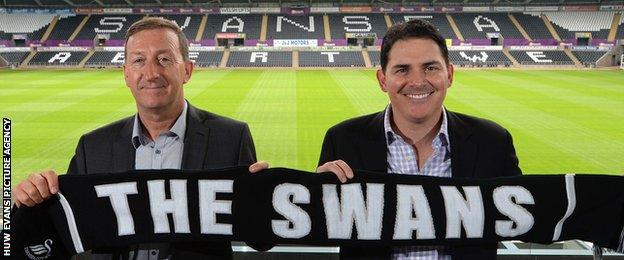 He made more than £8m by selling 8.2% of his 13.2% stake in the club to Levien and Kaplan and was accused of greed by angry Swans fans during the team's battle to avoid relegation last season.
Jenkins said he accepted responsibility for Swansea's struggles at the time, but still believes the club is stronger for its American takeover.
"We are probably in the best financial position we have been in since we've been in the Premier League," Jenkins told BBC Sport Wales.
"Things are looking in the best position we've been in since joining the Premier League on and off the field."
To strengthen the playing squad, Swansea's hierarchy want to expand the club's capacity to generate its own revenue.
A large proportion of Premier League clubs' budgets comes from enormous television rights deals, though these funds are released in three tranches over the course of a season.
To cover this shortfall, clubs often use loans from banks, guaranteed against their future earnings from these deals, as the Swans have done this year.
In addition to these measures, Kaplan and Levien want Swansea to become more self-sufficient in their financial dealings, and one of their prime objectives for that goal is to take control of Liberty Stadium.
Swansea City Council built the £27m arena where Swansea City AFC and the Ospreys rugby team have played since 2005.
The Swans and the Ospreys currently pay rent to the Swansea Stadium Management Company - a partnership between the council and two clubs.
Under a new deal Swansea would run the stadium, increasing the scope for stadium expansion and selling the ground's naming rights.
Negotiations are ongoing between the council, Swansea and Ospreys about the deal, and it will only be when those talks finally come to a conclusion that Levien and Kaplan will be able to progress with their plans for the club.
So far the American takeover has brought with it frequent managerial changes, a narrow escape from relegation and the sale of some of the Swans' best players.
It has also brought what Jenkins believes to be greater financial security but, until projects such as the Liberty Stadium's acquisition and the club's commercial expansion are complete, it remains to be seen what the Americans' legacy at Swansea will be.