Celtic: Brendan Rodgers says his side 'will not be intimidated' against PSG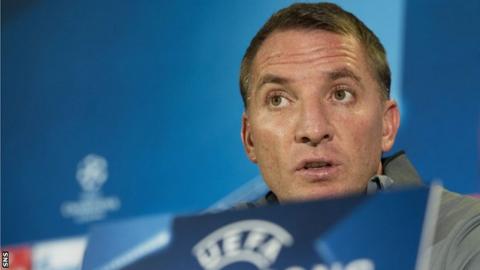 Champions League: Celtic v Paris St-Germain
Venue: Celtic Park Date: Tuesday, 12 September Kick-off: 19:45 BST
Coverage: Listen on BBC Radio Scotland 810MW/DAB/online; live text commentary on the BBC Sport website
Manager Brendan Rodgers insists Celtic "will not be intimidated" by Paris St-Germain's attacking talent.
But he says "attitude is everything" ahead of his side's Champions League Group B opener.
Rodgers' side will line up against a team he believes "were put together to win this competition" after signing Neymar and Kylian Mbappe.
"We just aim to play our game, based around being aggressive defensively and having a physical edge," Rodgers said.
"If you stand off top-class players they will show you why they are top class.
"The quality they have been building over the last few years and what they have done over the summer - bringing in Neymar and [Kylian] Mbappe, who is an amazing young striker - their focus clearly is on winning it.
"We've been pretty clear about how we wanted to approach the Champions League. It's huge credit to the players how flexible they can be.
"Our style will always be the same, in the aggression in which we defend and attack, but where the players are very comfortable now is playing in and out of different systems.
"I'm interested to see how we play on the counter attack because this is a level where you have to stay calm. If you can't press the ball, you're looking at how organised you can be.
"We have the players to do that and I'm looking forward to see how they perform in that way, where they can dip in and out of the pressure."
PSG's world record-breaking signing Neymar visited Celtic Park at the same stage in last year's competition, in a 2-0 victory for Barcelona.
Rodgers insists that the Brazilian is "on his way" to joining Lionel Messi and Cristiano Ronaldo as one of the best players in the world.
The Celtic manager is confident his players will rise to the challenge of trying to curtail a front three of Neymar, Mbappe and Edinson Cavani.
"It's an incredible array of talent and the [PSG] manager has done a very good job trying to formulate it all into one team," Rodgers said.
"When you have that talent working hard it's very difficult, but you always have to look to find ways. We go into the game with that mentality.
"It's a challenge we are ready to embrace now and with a full stadium and the first game in the competition it should be a magnificent evening.
"We showed here in the [3-3 draw] against Manchester City last year, when they came here they had won their first 10 games domestically; we played our game and it gave the players great confidence and from that we were able to up our level of performance.
"They have to feel us breathing very close to them. That's how we play domestically and in other games in this competition and it has served us very well.
"It's our job to find a way to progress with real aggression but to protect our organisation and that is what we'll look forward to, trying to play to that plan."
Celtic lost their opening Champions League group game 7-0 away to Barcelona last season, but regrouped to draw with Manchester City in Glasgow and also recorded 1-1 draws away to Borussia Monchengladbach and City.
Rodgers believes his players are better prepared for the group stage this season, and wants his side to make a "positive start" against PSG.
"It's a real cauldron on these types of evening," Rodgers added. "That should set a great platform for us to hopefully go and get a result.
"We're in a real good condition to go in this time. The players are very clear on how they work and how we handle these types of pressure games. This is a game to go and enjoy.
"We take an attitude into the game knowing we are very much a team. We have the speed in the team now that maybe we lacked early on in moments of the early stages of the Champions League last year.
"We have that strength, we have the power - okay, there are areas where we could be stronger - but we are still set up to play this game to a very high level."