Sky to stream midweek English Football League games after new £600m TV deal
Last updated on .From the section Football325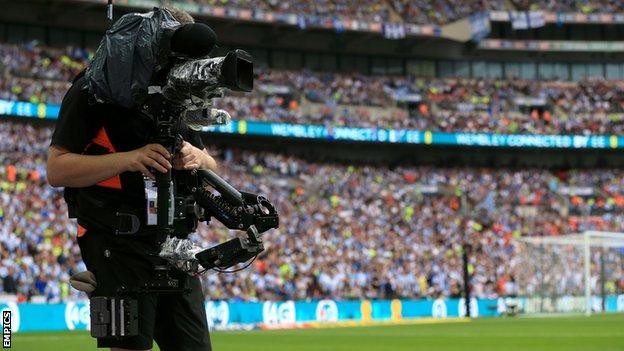 Sky will be able to stream all midweek Championship matches after agreeing a new £600m five-year domestic rights deal with the English Football League.
All EFL clubs will be able to stream midweek league games via their websites if Sky are not broadcasting them live.
The contract will run from 2019-2024, with the value of the rights increasing by 36% from the present agreement.
Sky will also continue to broadcast the Carabao Cup, Checkatrade Trophy and play-offs until May 2024.
Matches played between 14:45 and 17:15 on Saturdays will continue to be blocked from live streaming.
"These negotiations came at what was an incredibly challenging period in the sale and acquisition of sports rights in the UK," said EFL chief executive Shaun Harvey.
"Having fully tested the market, we believe that not only has a significant increase in value for our clubs been achieved, but also the very best deal, with the best partner has been delivered."
The existing EFL television deal runs out at the end of the 2018-19 campaign and is worth £88.3m per season - a figure that will rise to £120m under the new terms.
A maximum of 150 EFL games will be shown per season, including 16 midweek Championship matches and a minimum of 20 League One and League Two games.
Analysis
Simon Stone, BBC Sport
The EFL remain confident midweek attendances will hold up despite the wider availability of fixtures following Tuesday's announcement.
In the winter months particularly, lots of long distance games are played in midweek - Blackpool v Gillingham, Bristol Rovers v Rotherham, Charlton v Rochdale, Oldham v Wimbledon and Oxford v Blackburn are all scheduled to be played on Tuesday, 21 November this season for instance.
Away fans willing to undertake those trips are unlikely to be put off by an ability to watch them on a live stream.
In addition, as Sky have no access to broadcast European games until at least 2021, the midweek slots offer them the chance to screen live football.
What no-one can really know is how the media landscape will have changed by the time the deal ends in 2024.