Manchester United have 'no excuse' not to have a senior women's team
Last updated on .From the section Women's Football75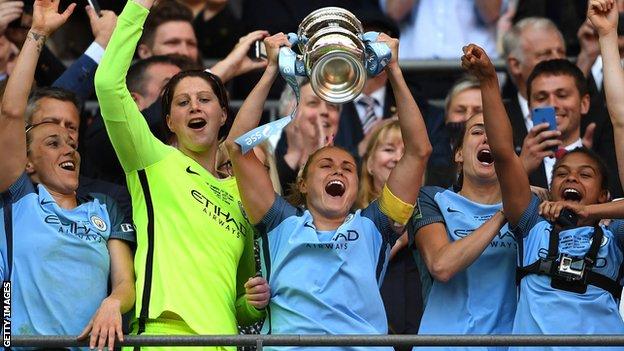 There is "no excuse" for Manchester United not to have a senior women's team, a former Old Trafford director has said.
Ex-commercial director Andy Anson, who was on the board until 2007, believes it is no longer tenable for the club to be without a senior women's side.
"It is something of an embarrassment to them now. Manchester United have to revisit this," Anson said.
Speaking at a conference in Salford, he continued: "There are no excuses and no arguments. They have to make it happen.
"I am embarrassed to admit the decision to close the senior women's team down was taken when I was on the board."
United have repeatedly said the option of relaunching a women's team remains 'under review'.
The Women's Super League was launched in 2011 and rivals Manchester City have become one of the major forces in the women's game.
City won the league title in 2016, and the FA Cup in 2017, as well as reaching the semi-finals of the Champions League last season.
"I understand that it is a difficult thing to make happen logistically and commercially - it might be a challenging decision," Anson added.
"However, women's football has reached such a stage in its evolution, it doesn't feel right for Manchester United not to be involved."