Jose Mourinho: Man Utd boss unhappy with 'Playstation football' against Basel
Last updated on .From the section Football264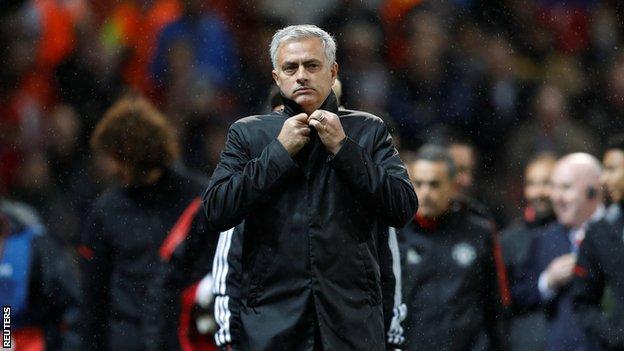 Manchester United manager Jose Mourinho accused his players of jeopardising Champions League victory over Basel by playing "Playstation football".
United marked their return to the competition with a 3-0 win at Old Trafford, but Mourinho was unimpressed with their play in the second half.
"Until 2-0 we were stable, we played with confidence," he told BT Sport.
"After 2-0 everything changed, we stopped playing seriously and stopped making right decisions."
Goals from Marouane Fellaini, Romelu Lukaku and Marcus Rashford gave United an ultimately comfortable victory.
But Mourinho said: "We could have put ourselves in trouble.
"We were playing fantasy football, Playstation football. I don't like it - flicks and tricks.
"We gambled and you have to respect your opponent. I don't know if goal difference will play a part.
"We lost position, our shape, we lost balls in easy situations. I didn't like it - the players relaxed too much."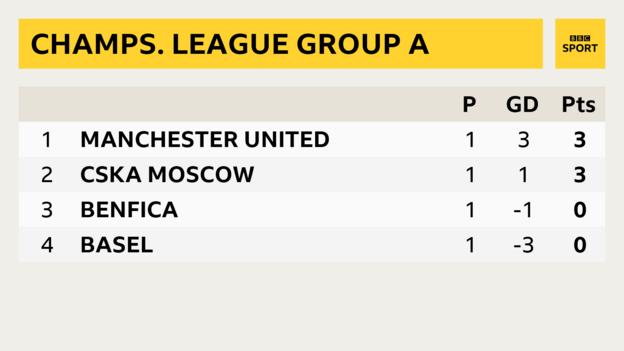 'Fellaini is one of my most important players'
Mourinho was again full of praise for midfielder Fellaini, who came on in the 19th minute for the injured Paul Pogba, scored United's first goal and set up their third for Rashford.
Before the game, Mourinho said he "felt weak" when he did not have the Belgian at his disposal.
"I keep saying the same about Fellaini. He is a player with special qualities and he gives me multiple areas of action," said Mourinho after Tuesday's game. "He is one of my most important players."
Fellaini's two key contributions to the game came either side of another United goal for Lukaku.
He now has six for the Red Devils in all competitions since his arrival from Everton, and 10 in eight appearances for club and country this season.
Rashford's goal - coming seven minutes after his introduction from the bench in the 77th minute - continued his run of scoring on debuts. He has now scored on his first appearance in the Champions League, Premier League, Europa League, FA Cup, League Cup and for England.
'Squads are for injuries'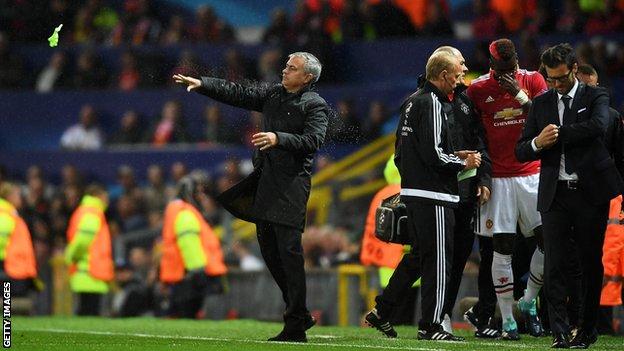 Pogba looks set for a spell on the sidelines after limping off with what appeared to be a hamstring injury.
Asked about the extent of the injury, Mourinho told MUTV: "I don't know. I just know from experience it's a muscular injury. In my experience, muscular injury stops you from playing for a few weeks, I think.
"Squads are for this, squads are for injuries, squads are for suspensions. We don't cry with injuries. So if no Paul for Sunday, we have Herrera, we have Carrick, we have Fellaini and we have Matic."