Champions League: 'Celtic need result against Anderlecht after 5-0 loss to PSG'
Last updated on .From the section Football
Craig Gordon believes Celtic need a positive result in their next Champions League game following the 5-0 defeat by Paris St-Germain.
Goalkeeper Gordon admits Celtic showed PSG "far too much respect" in Glasgow.
The Scottish champions are away to Anderlecht in their next Group B fixture on 27 September.
"We have to go into the next one and look to get a result in it," said Gordon following the club's heaviest European home defeat.
"It's a big game coming up, the next one in this group, so we go again and we try and get something from that game."
Captain Scott Brown agrees, saying: "We need to go there and try and get something. It is a huge game for us.
"If we can go there and get some points over there, it would be great.
"Third place, we can do it. Now it is going to be hard for us, but we have got to try and pick ourselves up and go again.
"We just need to try and make sure we get European football after Christmas. That was our aim at the start and that is still our aim now.
"As everyone says, it is about us trying to stay in the competition as long as we can and, if we can do that after Christmas, it would great for this club."
Finishing third in Group B would secure a Europa League berth for Celtic, with games against Bayern Munich also to come for Brendan Rodgers' side.
'They were just too good'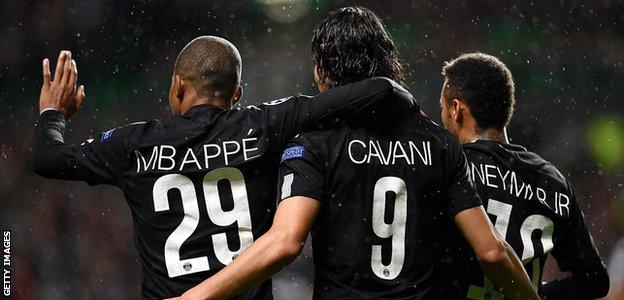 Asked if Celtic had lost to a potential winner of this season's Champions League, Gordon replied: "Yeah, absolutely."
And he said of the French side: "They're a very expensive team, they're very good, so let's just put that in perspective.
"They're one of the best teams in the world right now. They've put together an amazing squad. There isn't a weakness anywhere in their team to try and exploit.
"Sometimes you just have to accept that that was an excellent team on show tonight.
"They moved the ball so quick that it didn't allow us to get close enough to close them down. It was a great performance by them.
"We're a little bit disappointed we didn't quite do as well as we had hoped, but you've got to accept that they're a world-class team. They did a good job on us tonight.
"We gave them far too much respect first half, we allowed them to play and when you allow a great team like that to play, you're going to cause yourself a lot of trouble and that's what happened and they took full advantage.
"We didn't do what we were looking to do to stop them playing. The manager wasn't happy that we didn't get close enough to them. They were just too good."
Winger Scott Sinclair shared Gordon's disappointment and agrees PSG are real contenders.
"The first half-an-hour, we started off really poorly as a team," said the Englishman.
"If we come out the traps a little bit more aggressive, that's the only way.
"They're top, world-class players. I'm sure they'll be looking to win the competition and they've got the players and they showed tonight their qualities."