Neymar joust enjoyable, despite 5-0 loss and no handshake, says Celtic's Anthony Ralston
Last updated on .From the section Football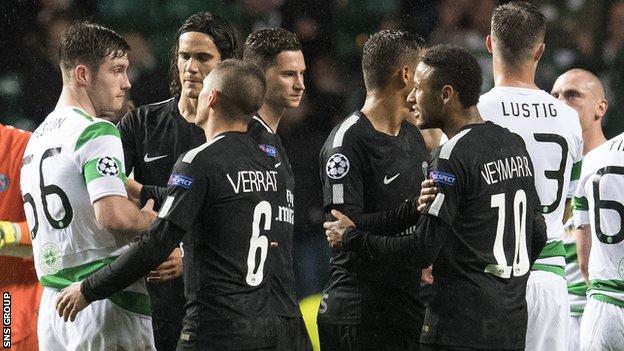 The refusal of a handshake from the world's most expensive player capped an eventful first Champions League start for Celtic's Anthony Ralston.
The full-back, 18, had a running duel with Brazilian star Neymar as Paris St-Germain left Glasgow with a 5-0 win.
Neymar got the better of Ralston for the opening goal and the pair clashed physically and verbally throughout a torrid evening for the home side.
"I will take a lot from the experience and move on," said Ralston.
"It is only going to help me become a better player."
Ralston was caught flat-footed as Neymar raced clear to score on 15 minutes, with Kylian Mbappe and Edinson Cavani adding further goals before half time.
Late in a one-sided game, Celtic defender Mikael Lustig put through his own goal before Cavani headed in his second.
"I enjoyed coming up against him," said Ralston of his tussle with Neymar, who moved to Paris from Barcelona for a £200m fee last month.
"I didn't fear him at all," said Ralston. "I knew I was coming up against him. I went out and faced him head on.
"It was a good test for me to see where I am at, what level I am at. I am my biggest critic. I'll go analyse the game and see what I can do better."
Neymar and Ralston exchanged words during the game, with the Celtic teenager having a kiss blown his way at one point.
"It is just part and parcel of it," said the Scotland Under-21 international. "It is the mental side of the game, these things happen, it's football, you move on. It wasn't a big deal at all.
"Again I am learning. It was just talking back and forth, that was all it was."
The bickering continued after the full-time whistle as Neymar turned down the offer of a handshake.
"I was just walking by and [Marco] Verratti was there as well, it was just a moment. He said what he said and I said something back and that was it.
"To be honest, I don't care about that side of things at the end, I don't want to dwell on that too much."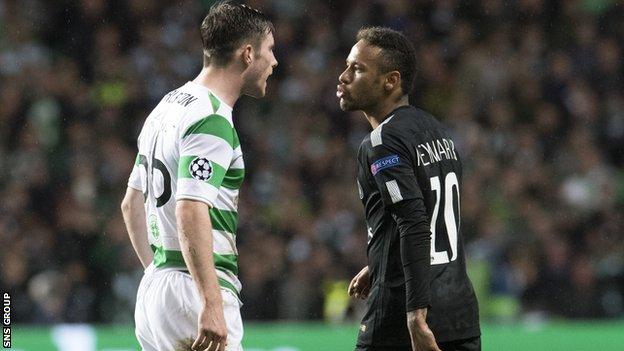 Ralston, making just his fifth start for Celtic, was given plenty of time to prepare for such a big night by manager Brendan Rodgers.
"The gaffer let me know a week ago, to get myself prepared, get it in my head," he said.
"It was a very exciting week for me knowing I was getting this opportunity. I prepared myself right.
"It was a very special night, crazy, a brilliant atmosphere.
"On a personal note, for me as Celtic fan all my life, to be able to come out and play in a Champions League night is a dream come true.
"Obviously we are not happy with the result. But on a personal level to come in and get the experience like that is something I will take a lot from."
Rodgers was critical of his side's first-half display but had words of encouragement for Ralston.
"Overall for him as an 18-year-old coming into that I thought he was excellent," said the manager. "In fairness, it was a difficult start for him early on.
"For the first goal when Neymar scored we had the ball and he is on the way up the pitch and then we concede the ball cheaply and then his pace takes him in behind.
"But I thought he stood up to it, he had some great blocks and the experience Tony will gain from that will be huge. He has played his first Champions League game against one of the best players in the world and in general I thought he coped very, very well."