Norwich City need better movement going forward, says boss Daniel Farke
Last updated on .From the section Football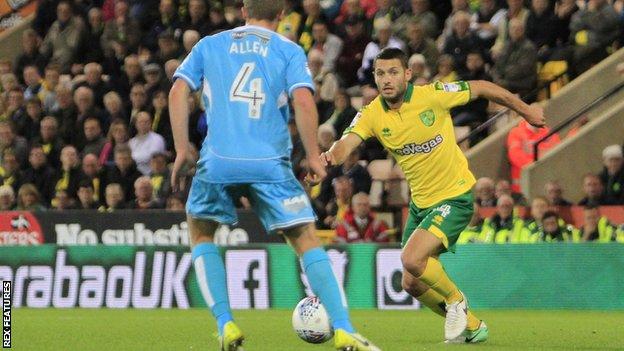 Norwich boss Daniel Farke says his side needs better movement going forwards after the 0-0 draw with Burton.
But Farke was happy to see his side achieve a second clean sheet in a row.
"Normally we are able to create chances and score goals and I'm pretty sure we will improve and hopefully bring both together, goals and clean sheets," he told BBC Radio Norfolk.
"We started sloppy, that was our problem in this game. For the first 30 minutes, we were not aggressive enough, we didn't move the ball quick enough and had too little movement.
"It's difficult to create chances against a team who tries from the first second to take time away from the clock and defends with 10 players around the box."
Norwich are 13th in the Championship, with eight points from their first seven games, and travel to Sheffield United on Saturday.
Farke is happy with his side's improved defensive performance in the last two games, but now wants more from his players at the other end of the pitch.
"There was one chance for Burton, but otherwise we were really disciplined and good in defence. It's the basis for your game," he added.
"We were better in possession today but we have to invest more movement to create chances, more concentration in the final third. That was the reason we didn't win this game.
"Let's say Josh used his 100% chance and it's 1-0, perhaps they would have opened up the game, we could have countered and perhaps it's 4-0 and all the fans are going home celebrating our football.
"But we didn't use our big chance and so we have some topics to work on."