Southend United: Jason Demetriou backs Shrimpers to turn form around
Last updated on .From the section Football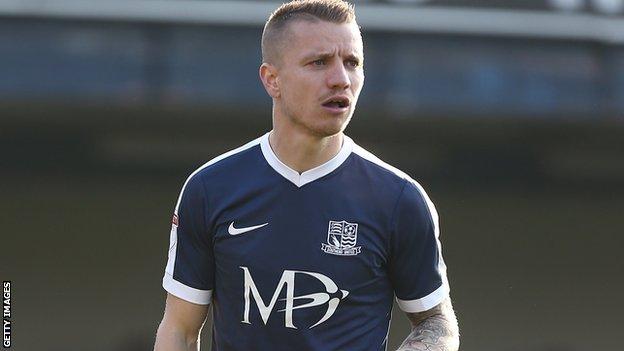 Southend defender Jason Demetriou is confident their form will soon turn around after an eight-game winless run.
"The atmosphere is still positive. It was so close to being a good performance and getting something out of the game," 29-year-old Cyprus international Demetriou told BBC Essex.
"The goal came from nothing, I'm not sure the guy actually meant to shoot."
Southend finished seventh last season, just one point outside the play-off places.
"Getting everyone back on the field and getting that one win, it sparks so much confidence and you win games when you're not good," Demetriou added.
"The thing is we're doing well and we're not winning, let's just hope that luck turns in our favour.
"We started a bit slow last year so let's hope we pick up a few points and get back to where we should be."
Normally a right-back, Demetriou was pressed into service on the left flank because of the club's ongoing injury problems.
"It was strange at first, but when I started my career at Leyton Orient I was a left winger for three or four years," he explained
"I'm not saying my left foot is that good but I can use it if I need to. It takes time to get used to the angles and different things but it wasn't too bad."
Demetriou was also on the receiving end of booing from a section of Shrewsbury fans after a difference of opinion with a ball boy.
"One of their ball boys tried to taunt me with the ball and I reacted badly. I did apologise to the young boy but stress of the moment and he's trying to to hide it from you, I told him politely to give the ball back," he said.
"It's football, it gees you up - it's just pantomime a lot of the time."