Teams set for WAFU Cup of Nations groups in Ghana
Last updated on .From the section Football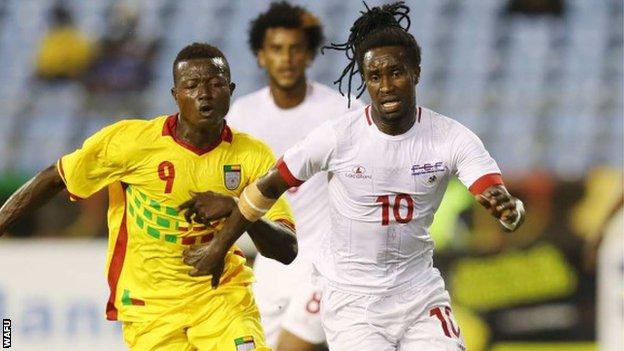 Ivory Coast and Benin were the last two teams to qualify for the group stage of the 2017 WAFU Cup of Nations in Ghana.
The Ivorians progressed in the West African regional championship with a penalty shoot-out win over Togo after the goalless draw on Tuesday.
Benin were 2-0 winners over Cape Verde in the final qualifier.
The two winners join Senegal and Niger in Group B of the tournament, while hosts Ghana, Nigeria, Guinea and Mali will contest the other pool.
Group A

Group B

Ghana

(beat Gambia 1-0)

Benin

(beat Cape Verde 2-0)

Guinea

(beat Guinea-Bissau 2-1)

Ivory Coast

(beat Togo on penalties)

Mali

(beat Mauritania 3-1)

Niger

(beat Burkina Faso 2-1)

Nigeria

(beat Sierra Leone 2-0)

Senegal

(beat Liberia on penalties)
A total of 16 teams began the tournament as opposed to the four that took part in the 2015 edition in Senegal.
As the event is not on the international match calendar teams are unable to insist on the release of players by clubs.
The result is that many of the sides fielded teams similar to those they use in qualifying for the Africa Nations Championship, the tournament for locally-based players only.
However Cape Verde managed to include several players who are based in Portugal in their squad.
While Sierra Leone, The Gambia, Niger brought as many of the senior national team players as they were able to.
The group phase kicks off on Thursday with Mali playing Nigeria and Ghana facing Guinea in Group A.
The top two nations from the groups will progress to the semi-finals with the final set for 24 September.